Note: All beaches in the Adur and Worthing area are shingle (however, some sand may be revealed at full low tide).
See also:
---
Kingston Beach
Kingston Beach has status as a Village Green and the lighting of fires and barbecues is not permitted on this beach.
Please respect this beach and comfort of nearby residents.
The Shoreham Harbour RNLI Lifeboat Station and Shoreham Lighthouse are located at Kingston Beach near the Shoreham Harbour entrance.
The following areas are either on, or adjacent to, Kingston Beach:
Photo: Kingston Beach, with the RNLI Lifeboat Station and Lighthouse in the distance
Lancing Beach
Barbecues are permitted on Lancing Beach, from April through to October each year, in the designated area to the west of the beach where special disposal bins are provided.
The beaches at Lancing are controlled by:
From April to October the Coastal Office actively patrol this area providing a foreshore and water safety service.
The following areas are either on, or adjacent to, Lancing Beach:
Photo: Lancing Beach (and beach huts)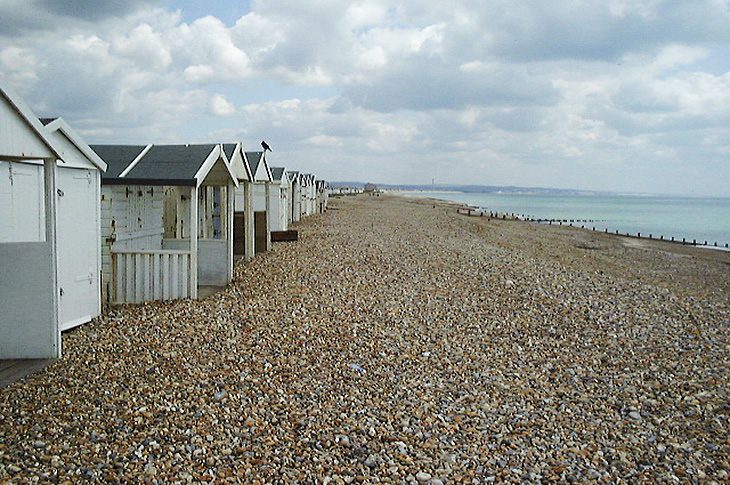 Shoreham Beach
The vegetated shingle on this beach is an internationally rare habitat that contains such plants as Yellow Horned Poppy, Sea Kale and Curled Dock. These plants encourage a wealth of wildlife to the beach. This is why the beach became a Local Nature Reserve (LNR) on 10th June 2006. A certificate was presented to commemorate the event.
You may not barbecue on Shoreham Beach because of its status as an LNR. Please respect this area. For alternative places please see the barbecues page.
See also:
Photo: vegetated shingle on Shoreham Beach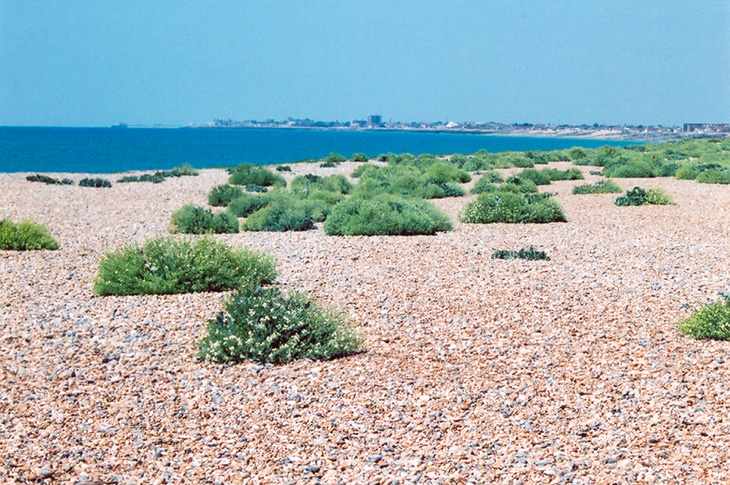 The following areas are either on, or adjacent to, Shoreham Beach:
See also:
Shoreham Beach Boardwalk
Since 2011, Shoreham's beautiful beach has seen a boardwalk surface on the shingle, connecting the road with the shoreline using modern materials sympathetic to the area's conservation status.
The boardwalk allows the beach and amazing its natural vistas to be enjoyed by all - previously it was nearly impossible for anyone living with a mobility issue to get across the stones to watch the sunset and waves breaking.
The boardwalk has opened up over 1.2km of Shoreham's beach front.
Photo: Shoreham Beach Boardwalk - looking east towards Brighton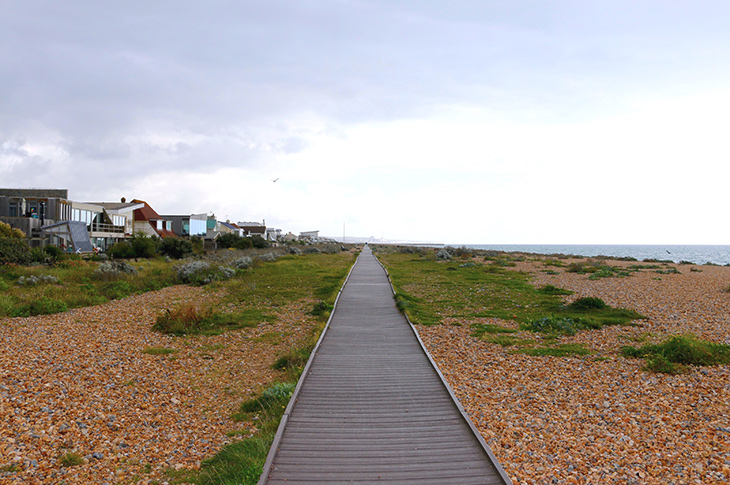 Photo: Shoreham Beach Boardwalk - looking west towards Worthing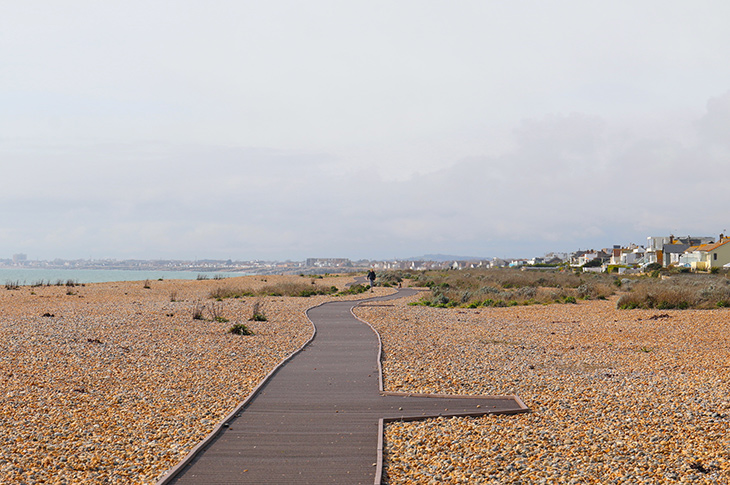 Back to Shoreham Beach orBack to top
Friends of Shoreham Beach
Friends of Shoreham Beach (FOSB) work to support the Local Nature Reserve (LNR) through raising public interest in the plants and animals which live on Shoreham Beach and also awareness of their fragility in the face of inappropriate human activities.
They organise beach cleans, monitor rare species and remove invasive ones to preserve the habitat for present and future generations.
For further information on joining Friends of Shoreham Beach see the:
Back to Shoreham Beach orBack to top
Southwick and Fishersgate beaches
Beaches at Southwick and Fishersgate are mainly in the ownership of Shoreham Port Authority.
Barbecues, bonfires or fireworks are not permitted on these beaches.
See also:
Photo: Southwick Beach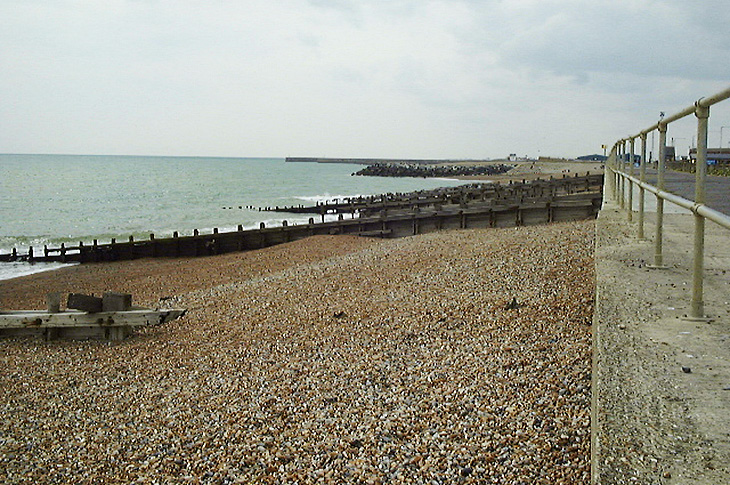 Worthing Beach
Worthing Beach is 5 miles long between Ferring in the west and Lancing in the east.
The beach is made up of mainly shingle above high water, and sand with rock pools down to low water.
Photo: Worthing Beach and pier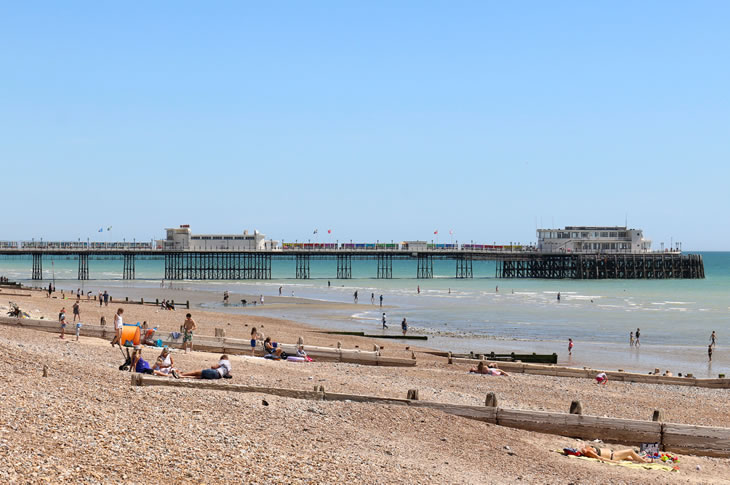 Photo: Lifeboat memorial at Splash Point rocks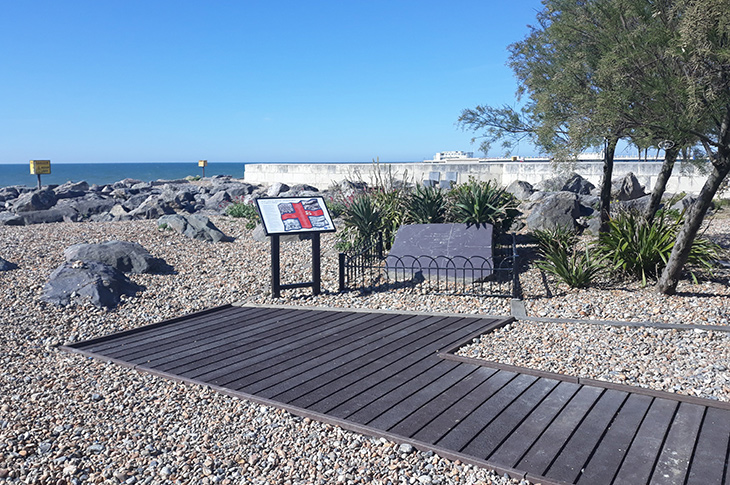 See also:
Dogs on the beach
Adur: Dogs are allowed on all beaches in Adur throughout the year.
Worthing: Dog restrictions apply on the beach:
in Worthing from Heene Road to Splash Point rocks, and
in Goring between the launch ramp in line with Seafield Avenue and the launch ramp at Worthing Sailing Club
This restriction excludes all dogs from the beach 24 hours a day, from 1st May to 30th September:
all dogs must be kept under the owner's control on a permissible beach
all dogs on the promenade must be on a lead
all owners are required to clean up dog waste, and use the waste bins provided
the zones are regularly monitored and those found to be in breach of the restrictions may be liable to a fixed penalty notice or prosecution. For more details, and to see how much the fines are, see: Littering and dog fouling fines
Note: You can click on the maps below for a larger version.
Map: The beach between Heene Road and Splash Point rocks in Worthing (dog exclusion zone)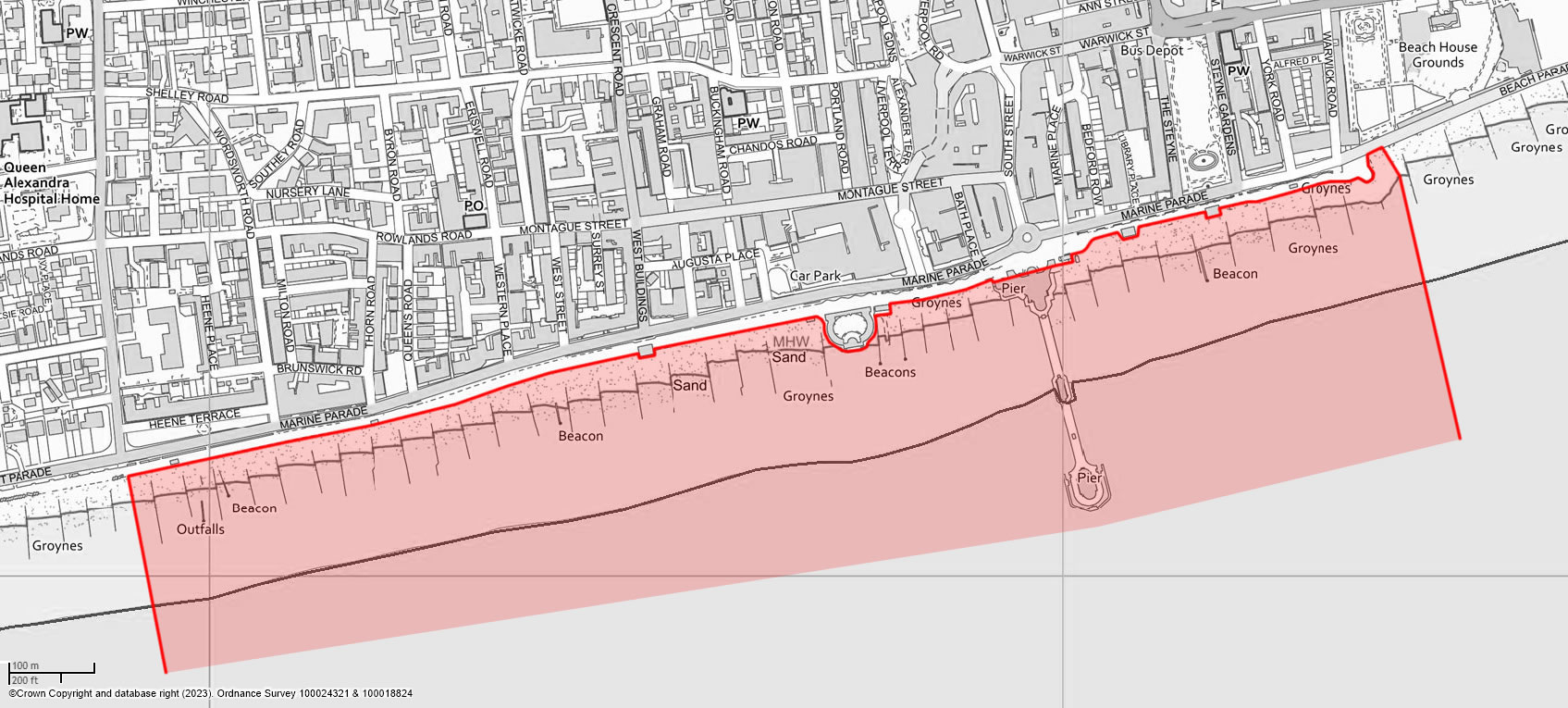 Map: The beach in Goring between the launch ramp in line with Seafield Avenue and the launch ramp at Worthing Sailing Club (dog exclusion zone)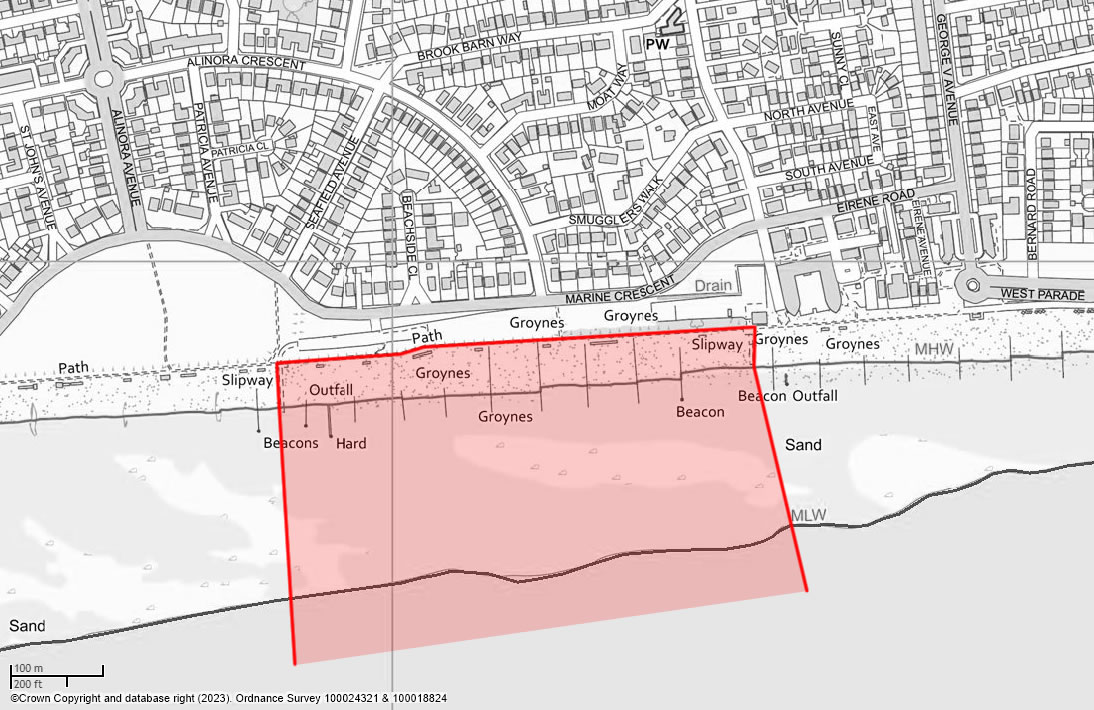 See also:
Need assistance with this service?
Get in touch:
Coastal Office
Page last updated: 15 August 2023
Back to top