Coastal Office and patrol service
(previously called the Beach Office)
See also:
---
The Coastal Office
The Coastal Office is a Council funded Coastal Wellbeing service. Staff are First Aid trained and can also deal with every eventuality from lost children to environmental reconnaissance, injured marine life, assisting emergency services and promoting, supporting and achieving conservation efforts.
The office is situated on the promenade between Worthing Pier and Worthing Lido where you can see the Rockpool Reef tank housing local rockpool species, hire a free Marine Warrior backpack (£30 cash deposit required) which has all the items you'd need to go rockpooling - and little ones will receive an activity book and certificate, buy a tide table and find out general information about Worthing's foreshore.
The Coastal Office is open 7 days a week:
1st May to 30th September: 9am to 6pm
1st October to 30th April: 9am to 1pm and 2pm to 5pm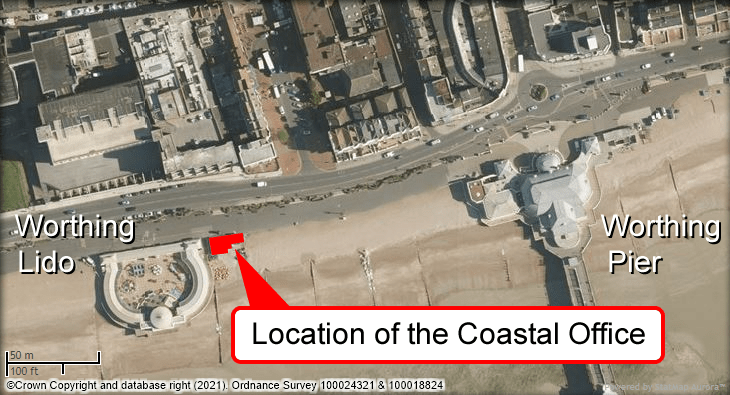 What area do we cover?
The Coastal Office provides a service along 10.5 miles from Ferring in the west, to Widewater, Lancing, in the east.
The beach is made up of mainly shingle above high water and sand down to low water, with plentiful rock pools.
Water quality is tested by the Environment Agency.
How do we patrol the beach?
Proactively by ATV quad bike or foot during the winter months covering from Ferring to East Worthing.
From 1st May to 30th September, we extend our area of operations to 10.5 miles from Ferring to Widewater in Lancing and conditions dictating deploy our jet ski.
The whole operation is controlled from the Coastal Office. All staff, vessels and vehicles carry VHF radio, mobile phones and a plentiful First Aid kit. Any of our units can contact the emergency services.
The Coastal Office is Council funded and known as an additional service to the Coastguard and other emergency services. Environmental reconnaissance is a large element of our day to day which includes:
reporting defects either marine or shore-based
promoting our seafront
enforcing and advising on byelaws
promoting water and beach safety
beach vessel management
recovering detritus and injured marine life, and
working to preserve and enhance our resident native flora and fauna
Our fleet consists of:
1 x PWC jet ski with Rescue Board
1 X Patrol Kayak
2 x ATV (all-terrain vehicle)
Other services provided by the Coastal Office
The Coastal Office carries out many other services including:
First Aid: Available during opening hours
Water Safety and Conservation talks: Contact the Coastal Office for details on how to arrange.
Byelaw enforcement: The Coastal Office monitor infringements regarding cycling, jet skis, power boats and do their best to keep everyone safe - see also byelaws
Need assistance with this service?
Get in touch:
Coastal Office
Page last updated: 02 June 2023
Back to top