The Living Coast - Biosphere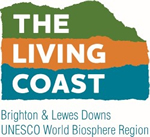 Adur & Worthing Councils are proud to support 'The Living Coast' as a member of the Brighton & Lewes Downs Biosphere Partnership.
The Living Coast is recognised by UNESCO as a World Biosphere Region based on its mission to pioneer a positive future by connecting people and nature in this world-class environment of Downs, Towns and Coast. Everyone is encouraged to play a part to 'Follow Your Better Nature'.
For more details please visit:
Photo: Globally rare vegetated shingle habitat on Shoreham Beach (copyright Steve Savage)
Page last updated: 04 October 2018
Back to top