Rare Highdown species saved for future generations
Released: Wednesday, 13 November 2019
Seeds from an extremely rare plant at Highdown Gardens have been sent to a special bank to help preserve the species.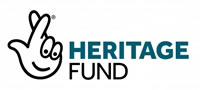 Experts from Kew Royal Botanic Gardens visited the Worthing gardens to train volunteers in how to collect seeds which could be used for propagation at later stages.
The Kew experts are part of the Botanic Garden's Millennium Seed Bank project at Wakehurst. There a growing collection of seeds from around the world, aiming to provide a safety net for species at risk of extinction.
Saving the many exotics at Highdown is part of the new project funded by the Heritage Lottery Fund which will see the gardens undergo a transformation with the building of a new visitors' centre, new more accessible walkways, and a new sensory garden.
A new Plant Heritage Officer, Annalise Brilli, has been employed under the project to help catalogue and ensure the survival of the many exotics the gardens' founder Sir Frederick Stern brought from around the world to grow on the notoriously inhospitable chalk soil.
Kew Team Supervisor, Sarah Gattiker and Seed Curation Assistant, Lucy Taylor, showed the volunteers how to collect seeds from a variety of specimens, including our two impressive Euonymus grandiflorus salicifolius.
Sir Frederick obtained these trees as two small cuttings in 1934. They can now be seen to the west of the bungalow where they stand over seven metres tall. Every autumn the trees are covered in fruit which Stern described as "very attractive when the large light pink berries are open, showing the black seed resting on a scarlet base". The trees received an Award of Garden Merit from the Royal Horticultural Society in 1953.
Sarah and Lucy showed the volunteers how to dissect the seed to determine its viability and discovered that the seed from the Euonymus appears to be 100% viable.
This seed will be cleaned, dried and stored at the Millennium Seed Bank, providing a safety net which will preserve the collection for future generations.
Photo: Grandiflorus salicifolius at Worthing's Highdown Gardens
(PR19-161)
---
Contact details
Contact Public Relations & Communications
If you have any enquires please contact:
07909 688 132 - Mike Gilson
or
07342 066 216 - Tim Ridgway
or
07795 504 983 - Talia French
---
Public Relations & Communications,
Adur & Worthing Councils,
Worthing Town Hall,
Chapel Road,
Worthing,
BN11 1HA