Tributes to former Adur Council Leader Robert Dunn
Released: Friday, 07 December 2018
Tributes have been paid to a former leader of Adur District Council Cllr Robert Dunn who has died.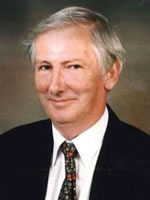 Cllr Dunn, the father of serving district councillors Angus Dunn and Emma Evans, served on the council from 1973 to 2008 apart from short breaks in 1986 to 87 and the 90s.
In his time he presented Fishersgate, Eastbrook, Hillside and Southwick Green serving on numerous committees. He was Leader of the Council, in those days called Chairman of the Policy Committee, between 1984 and 1986.
He was also a West Sussex County Councillor, serving both Southwick and Saltings Divisions.
Current Leader of Adur District Council, Cllr Neil Parkin, paid tribute to Mr Dunn.
"Robert first got me into the Council and I am grateful to him for that," said Cllr Parkin, "He was a fantastic local representative, passionate about standing up for Adur and a really smart, sharp politician.

"He was a wonderful public servant and I want to send my condolences on behalf of the entire Council to his family."
Robert leaves behind his wife Sue, son Angus and daughters Emma and Jo. Said Angus:
"As a family, we have been overwhelmed by the kind messages of sympathy and support we have received.
"It is of great comfort to know that the love and respect we had for Dad, is shared by so many."
(PR18-222)
---
Contact details
Contact Public Relations & Communications
If you have any enquires please contact:
07909 688 132 - Mike Gilson
or
07342 066 216 - Tim Ridgway
or
07795 504 983 - Talia French
---
Public Relations & Communications,
Adur & Worthing Councils,
Worthing Town Hall,
Chapel Road,
Worthing,
BN11 1HA