Types of play
---
Introduction
Playgrounds in Adur and Worthing have a wide range of play equipment from traditional swings and roundabouts to modern contemporary items, which entertain and stimulate children, and provide them with activities to help develop motor skills, balance and co-ordination as well as physical and social activity. Please see the individual playground page for a list of types of equipment at each site.
Traditional play equipment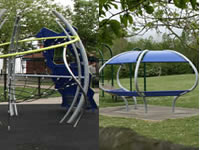 The Councils do not specify an age range on any individual item, as it believes that children should play on equipment according to their abilities. This may mean that a younger, but more adventurous child may experiment and take risks on equipment designed for slightly older children.
Equipment is designed for a specific age range however, and this is typified by access points being slightly higher or 'reach out' points being just out of reach of younger (and smaller) children.
We typically provide equipment in all our playgrounds for toddlers up to 6 years of age and from 6 to 10/12 years.
This equipment is usually swings, comprising traditional flat and cradle seats, and the more modern group or buddy swing, which can accommodate anything from a single child to a group playing together.
Roundabouts
Roundabouts raised off the ground are now being replaced with roundabouts which are flush to ground level to allow easy access for walking or being pushed onto in a buggy/pushchair or wheelchair. Traditional roundabouts are being complemented by small individual rotating items, such as spinner bowls or twizzle spinners, where you can hold onto a pole and stand on a small spinning platform.
Multi play units
Multi Play units can accommodate several children at once providing opportunities for social and co-operative play. Typical activities are sliding, climbing, crawling and balancing. The equipment varies from bright multi-coloured units to simpler contemporary styles with little of the traditional infill barriers. These are replaced with climbing challenges and use the inside and outside of the structures for 360 degree play.
Seesaws and rocking items
Seesaws and rocking items, such as Sprung Mobiles, are used by younger children to experience rocking on a huge variety of themed units. Seesaws are usually based on a central pivot or are sprung to allow for single use at only one end.
Multi use games areas (MUGAs)
Multi use games areas or MUGAs (pronounced "MooGa") are installed in some parks. Smaller single goal units are also installed at various parks. They usually consist of a fenced ball-court which can accommodate a variety of sports and have court markings to reflect this. Common sports include: five-a-side football, basketball, netball, tennis, cricket etc. In reality however, skateboarders and in line skaters also use these as well.
Individual Basketball Units are also installed in various parks throughout Adur and Worthing.
Wheeled play (skateboard, BMX and in-liners)
Adur and Worthing has a few very popular large skateboard/BMX installations which regularly feature on You Tube videos.
Both Adur and Worthing have sites with facilities for most wheeled sports to be able to learn, progress and challenge themselves.
Coming under the classification of 'Extreme Sports', facilities range from 'half pipes', to full 'street course' or 'large deep bowl'. The most recent facility at Ham Recreation Ground, has also had lighting added around the 'bowl' area and times/events can be checked on the user group Facebook page:
In the future, Worthing is looking for another skate facility in the west of the borough, so watch this pace for development news.
There is also an outdoor BMX track which consists of a run with jumps and take off points that is regularly modified by the users in the wooded area between Hill Barn & Rotary Recreation Grounds.
Fitness equipment
Increasing in popularity throughout the two Councils' park and playgrounds is Outdoor Fitness Equipment. These gym-type pieces include a rowing machine, strider, chest press, pull down exerciser and a lateral leg exerciser among others.
In Adur fitness equipment can be found at:
In Worthing, fitness equipment can be found at:
Forthcoming fitness equipment projects Summer/Autumn 2014 are planned at Pond Lane Recreation Ground and Waterwise Play Area.
Teen shelters/meeting points
The Councils are introducing meeting points for teens and young people to congregate in parks and open spaces as part of its commitment to providing facilities for all young people. This equipment is usually sited away from playgrounds to confirm the equipment is specifically aimed at the older youths. Typically it is installed as far away from properties as a site will allow and where fitness units are installed on a site, they are installed as a joint unit.
Need assistance with this service?
Get in touch:
Environmental Services
Page last updated: 19 August 2021
Back to top