Buckingham Park and playground
Upper Shoreham Road,
Shoreham-by-Sea,
West Sussex,
BN43 6BA
Facilities and attractions





‎ ‎

---
Equipment list for Buckingham Park playground
Smaller children's play equipment - 2 to 6 years typically
Older children's play equipment - 6 years onwards typically
Multi sports - football/basketball/cricket
Teen shelter meeting point
Two Table Tennis tables are available for visitors to the park to use for free
See also:
Opening hours
The park is open 24 hours a day all year round.
The ball park court will be open from 8am to 4pm in winter and until 8:30pm in summer.
Tennis courts are open from 8am to dusk, seven days a week.
The football season runs from April to early September.
The cricket season runs from April to end August/beginning September.
Buckingham Park ball park
The ball park has everything young people need to play basketball, netball and football.
There is also a 3m climbing wall, outdoor table tennis table football and a drinking water fountain.
There is also a youth shelter paid for by the Crime and Disorder Reduction Partnership.
The ballpark was opened by Yorick Williams from the Brighton Bears.
The play area was refurbished in September 2015 and the two entrances improved. The scheme saw some old and tired equipment removed and new equipment including a popular zip wire installed. Facilities include new wheelchair friendly picnic tables.
Football
Football can be booked by contacting the sports booking team.
Cricket
Cricket at Buckingham Park is administered through Southwick Cricket Club who carry out maintenance to the Cricket table directly and allocate all cricket fixtures at Buckingham Park. Please contact Southwick Cricket Club direct for all enquiries relating to Cricket at this site:
Outdoor fitness equipment
Various items of outdoor fitness equipment is installed at Buckingham Park and it enjoys regular use by visitors to the park.
You can find out about the types of fitness equipment on our types of play webpage.
Rugby
For more information about playing rugby at Buckingham Park please visit the Shoreham Rugby Club website.
Tennis courts
Tennis is playable at Buckingham Park on a first come basis and payment must be made in advance in 'Cup Cakes Cafe' by the children's playground.
Fees are based on per court per hour and are inclusive of VAT.
Tennis prices:
Prices from 1st April 2023 to 31st March 2024. Prices are subject to an annual increase in April, prices correct as at 1st April 2023.
Hard court - adult per hour - £8.50
Adult/family season ticket - £57.00
Table Tennis
Two table tennis tables are available for visitors to the park to use for free.
Tree of Life in Buckingham Park, Shoreham-by-Sea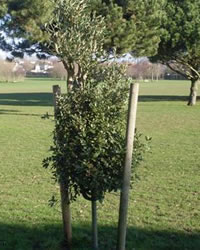 Adur's Tree of Life was planted a few years ago on the west side of Buckingham Park as a symbolic reference to the millions who died in the Holocaust and other genocides.
Holocaust Memorial Day is held each year on 27th January around the time of the anniversary of the liberation of the Nazi death camp, Auschwitz-Birkenau.
The purpose of the Tree of Life is to overcome prejudice, discrimination and racism in modern society.
People are invited to write a message for peace and tie it to the Tree of Life for others to read.
For more information visit the Holocaust Memorial Day Trust website.
See also: Tree of Life in Beach House Park, Worthing.
Memorial oak tree to mark 100 years since the end of the First World War
An oak tree to mark 100 years since the end of the First World War was planted in Buckingham Park on 9th November 2018.
The Chairman of Adur District Council, Councillor Joss Loader, and local Armed Forces champion, Councillor George Barton, were joined by children from Buckingham Park Primary School for the ceremony.
The tree was symbolically planted by the Chairman and a Year Six pupil from the school.
The schoolchildren also read out poems and prose they have written from the perspective of frontline soldiers and also those who stayed behind. You can read the poems below:
Representatives from the Royal British Legion, the Shoreham Society and local MPs and councillors also attended to the event.
Cllr Joss Loader, Chairman of Adur District Council, said:
"I am delighted that the children have accepted my invitation to help me plant an oak tree in commemoration of those who laid down their lives and made the ultimate sacrifice."
Photo: Unveiling the plaque at the oak tree in Buckingham Park, and the plaque
Photo: Children from Buckingham Park Primary School at the planting the of the oak tree in Buckingham Park
Need assistance with this service?
Get in touch:
Environmental Services
Page last updated: 01 June 2023
Back to top