Hill Barn/Rotary Recreation Grounds
and playground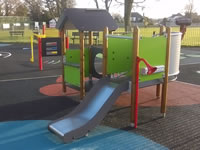 Hill Barn Lane,
Worthing,
West Sussex,
BN14 9QB
Facilities and attractions







---
See also:
Equipment list for Hill Barn/Rotary Recreation Grounds
Smaller children's play equipment - 2 to 6 years typically
Older children's play equipment - 6 years onwards typically
BMX Facilities
This site contains:
pavilion
two cricket pitches
four football pitches
During the year various schools and club running events use the area.
During Summer 2017 Hill Barn Lane recreation ground play area has undergone a full refurbishment following consultation with the local community. It now has a good range of play equipment for children aged 4-12 years.
To book a cricket or football pitch at this park please contact our Sports Booking Team.
Need assistance with this service?
Get in touch:
Environmental Services
Page last updated: 08 December 2020
Back to top