Windsor Lawns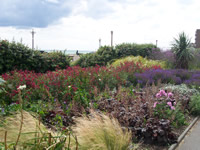 Windsor Lawns,
The Esplanade,
Worthing,
West Sussex
Opposite: St George's Road, Alexandra Road and Windsor Road, Worthing (BN11 2EU)
Facilities and attractions

---
This relatively small ornamental grassed area is situated on the seafront at East Worthing and is popular with those strolling along the promenade. This site was renamed in 2003, Queen Elizabeth II's Golden Jubilee Year. It is now known as Windsor Lawns. In 2004 the new planting was completed.
In March 2014 a range of 10 items of outdoor fitness equipment was installed. The funding for this came from West Sussex County Council and the equipment is similar to gym and stress equipment and was designed to give the user a whole body work out. The equipment also allows for mobility improvement as some items do not involve lifting a weight.
'Kick-Start is a partnership between West Sussex County Council and all seven local district and borough councils to boost the local economy. A wide range of projects have been designed to promote growth, maintain and create jobs, and attract new investment from the private sector. Kick-Start will deliver real and sustainable benefits across a variety of sectors from construction to retail, and business to tourism.
Calisthenics Fitness Area
A new calisthenics fitness area was installed in December 2017. Calisthenics are own bodyweight exercises performed using simple apparatus.
The park features:
A large central rig with multiple pull-up bars, monkey bars, parallel bars and flag ladder
Ab bench
Dual height low parallel bars
Plyo boxes
Need assistance with this service?
Get in touch:
Environmental Services
Page last updated: 08 December 2020
Back to top