Lancing Manor Park and playground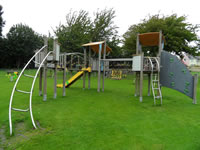 Manor Road,
Lancing,
West Sussex,
BN15 0QS
Facilities and attractions
---
Equipment list for Lancing Manor playground
Smaller children's play equipment - 2 to 6 years typically
Older children's play equipment - 6 years onwards typically
See also:
About this site
Lancing Manor is very popular for holding cross-country events and during the summer months holds a busy cricket season.
The leisure centre is open seven days a week.
Adur & Worthing Councils consulted locally and have now installed some outdoor fitness equipment which is sited next to the play area and is free to use.
It is also home to Lancing Manor Leisure Centre (run by South Downs Leisure).
Bowls
Lancing Manor is home to Lancing Bowling Club.
For more information on playing bowls at this site please see the:
Cricket
Cricket at Lancing Manor is played on an artificial wicket.
For information on how to book cricket at this site please contact Fiona Martin.
Friends of Lancing Manor Park (FOLMP)
The Friends of Lancing Manor Park are committed to retaining the open spaces within the park, improving the appearance of areas that have fallen into decline and ensuring that it remains accessible to all and is a valued asset for the community.
Their aims include ensuring that trees, flora and fauna are appropriately cared for and that the park, wherever possible, will actively support wildlife.
Petanque
Lancing Manor Leisure Centre is home to Adur Petanque Club.
For more information on playing petanque at this site please see the:
Running
Lancing Eagles Running Club is a local running club that caters for all abilities and regularly trains with runs starting from Lancing Manor Park on Wednesday evenings. They enjoy competing with local clubs in friendly competitions and are a proud member of the West Sussex Fun Run League.
For more information please see the:
Need assistance with this service?
Get in touch:
Environmental Services
Page last updated: 16 January 2023
Back to top