Is your Garden Waste subscription up to date? If you no longer want the green bin you need to advise us, as described in our terms & conditions (below). If you're struggling to pay, please talk to us on 01273 263050.
We can save you from trips to the tip by collecting your garden waste and taking it to be turned into graded compost:
Find out about:

---
Garden waste wheelie bin collections
Garden waste bin collection subscriptions cost £85 per year. The service includes:
a 240 litre green lidded wheelie bin, embossed with three dots
weekly collection (apart from during the first two weeks following Christmas and New Year)
taking your garden waste to be processed into graded compost
Note: From 1st January 2021 permit stickers are no longer issued for garden bins after your payment has been made. Your expiry date is now recorded electronically. If your subscription expires your garden bin will not be emptied. Please ensure that you renew at the earliest opportunity to ensure continuous service.
How to use your garden waste bin
Please make sure:
your bin is ready for collection by 6:30am on your collection day

your bin is left on the kerbside nearest your home, and is accessible from the road
your bin is not blocking a pathway
all your garden waste is in your bin. Additional garden waste left next to your bin will not be collected, unless it is in one of our garden waste sacks
Terms & Conditions: For further information about our Garden Waste Collection service see our Terms & Conditions. These are updated from time to time, you can read the latest version here:
Apply for a garden waste bin
Online:
By phone: Call us on 01903 851729
By post: Send a covering letter with your name, address, contact details and how many bins you require along with a cheque made payable to Adur District Council to:
Garden Waste,
Recycling, Refuse and Waste,
Adur & Worthing Council Services,
9 Commerce Way,
Lancing Business Park,
Lancing,
West Sussex,
BN15 8TA
Application forms are also available to collect from Portland House, Worthing Town Hall and The Shoreham Centre.
Renew your garden waste bin subscription
If you have received a renewal invoice please click on the link below to renew. You will need to enter your invoice number which will be listed on your invoice and starts with a '9':
If you haven't received a renewal invoice please click on the link below. You will need to provide either your telephone number or email address so we can identify your subscription:
Garden waste sacks
Note: Only AWCS garden waste sacks with our logo on will be collected (see photo). Other sacks/bags will not be taken.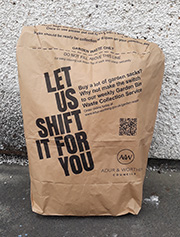 Garden waste sacks can be purchased for £1.25 each from various retailers across Adur and Worthing
Available to everyone - not just Garden Waste Service subscribers
Fully biodegradable
Collected weekly
One AWCS biodegradable garden sack holds 75 litres of waste
Each sack is 80cm x 60cm x 25cm
Please make sure your garden waste sack(s) are:
ready for collection by 6:30am on your collection day:>
left on the kerbside nearest your home, and accessible and clearly visible from the road
What can go in your garden waste bin or sack
Find out about:
Home composting
Home composting breaks down garden and some food waste (such as fruit and vegetable peelings, apple cores, etc) turning it into compost for your garden and reducing what gets sent to landfill.
We offer discounts on a range of home composters and accessories through our partnership with Get Composting - to find out more:
You can find out more about home composting, including what can be composted, here:
Please note: You must never home compost Japanese Knotweed. For information on Japanese Knotweed, including how to identify and prevent its spread, and dispose of it safely, see:
Garden Waste Service Credits 2022 (due to strike action)
Background information
Service interrupted (due to industrial action) from the 14th March 2022
Service restarted 3rd May 2022 - seven weeks in total
All customers affected by the interruption will receive a credit - these service credits will be automatically applied
The maximum service credit to be applied to customer bills is £11.90
The maximum service credit is based on a 50-week year, where each week costs £1.70 - therefore seven weeks' missed service equals £11.90
Customers need to take no action
You will be notified in writing, where necessary of any changes applied to your account(s)
Frequently asked questions
Q. I've paid my bill already this year. Do I need to do anything? What can I expect?
No. You do not need to take any action. A service credit of £11.90 will be applied to your account when your next bill is due. Thank you for joining or renewing your garden waste account.
Q. I have received a bill this year, but have not paid it yet. Do I need to apply for the service credit?
No. We'll re-issue your bill shortly with the service credit applied automatically. You'll receive this soon to pay in the normal way.
Q. I haven't received a bill yet this year and my garden waste service was interrupted by the strike. Will I get a bill with the service credit applied automatically?
Yes. Your next bill will be issued when due, with the service credit applied to your bill if applicable.
Q. I pay my subscription by instalment, do I need to take any action, and how will my credit be applied?
No. We will automatically adjust your Direct Debit payments to include any credit due on your account.
Q. I have renewed my garden waste service (paid in full) and know that I will be moving out of the Adur and Worthing area before the renewal in 2023 is due. How will I receive my credit?
Please contact our Garden Waste Team when you can and we will refund any credit owing on your account, where applicable. Please include as much detail as you can including your name, account number (found on your invoice) and address. Please email:
Q. I have a question about the service that isn't answered here.
You can read the terms and conditions for the service at:
If you have any other questions please email:

Need assistance with this service?
Get in touch:
Garden Waste (including bin day queries)
Page last updated: 23 November 2022
Back to top