We can save you from trips to the tip by collecting your garden waste and taking it to be turned into graded compost. It can be collected in one of two ways:
See also:
Garden waste wheelie bins subscription
Garden waste bin collection subscriptions cost £85 per year. The service includes:
a 240 litre green lidded wheelie bin, embossed with three dots
Garden Waste Permit attached to the bin for the valid period
weekly collection (apart from during the first two weeks following Christmas and New Year)
taking your garden waste to be processed into graded compost
How to use your garden waste bin
Please make sure:
your bin is ready for collection by 6:30am on your collection day
your bin is left on the kerbside nearest your home, and is accessible from the road
your bin is not blocking a pathway
all your garden waste is in your bin. Additional garden waste left next to your bin will not be collected, unless it is in our garden waste sacks
For further information about our Garden Waste Collection service please see our terms and conditions:
Apply for a garden waste bin
Online:
By phone: Call us on 01903 851729
By post: Send a covering letter with your name, address, contact details and how many bins you require along with a cheque made payable to Adur District Council to:
Garden Waste,
Recycling, Refuse and Waste,
Adur & Worthing Council Services,
9 Commerce Way,
Lancing Business Park,
Lancing,
West Sussex,
BN15 8TA
Application forms are also available to collect from Portland House, Worthing Town Hall and The Shoreham Centre.
Renew your garden waste bin online
If you have received a renewal invoice please click on the link below to renew. You will need to enter your invoice number which will be listed on your invoice and starts with a '9':
If you haven't received a renewal invoice please click on the link below. You will need to provide either your telephone number or email address so we can identify your subscription:
Garden waste sacks
Note: Only AWCS garden waste sacks with our logo on will be collected (see photo). Other sacks/bags will not be taken.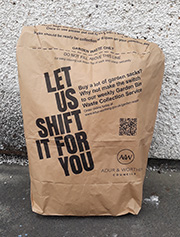 Garden waste sacks can be purchased for £1.25 each from various retailers across Adur and Worthing
Available to everyone - not just Garden Waste Service subscribers
Fully biodegradable
Collected weekly
Find out what can go in your garden waste sack.
Please make sure your garden waste sack(s) are:
ready for collection by 6:30am on your collection day
left on the kerbside nearest your home, and accessible and clearly visible from the road
What can go in your garden waste bin or sack
Find out about:
Page last updated: 24 November 2020