Where to buy garden waste sacks
Note: Only AWCS garden waste sacks with our logo on will be collected (see photo). Other sacks/bags will not be taken.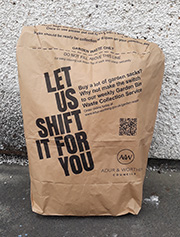 Garden waste sacks can be purchased for £1.25 per sack at all of the following retailers:
Please visit the Garden Waste Collection page for information on how to use your garden waste sacks.
Lancing
Listed alphabetically by store or retailer name:
Lancing Garden Sack Retailers
Shop Name
Location
Fircroft News
92 Manor Road
Tel: 01903 753037
Gardner & Scardifield - Hardware Shop
Penhill Road
Tel: 01903 755774
Gardner & Scardifield - Garden Centre
1-3 South Street
Tel: 01903 765165
Joyson News & Offlicence
401 Brighton Road
Tel: 0843 2582772
Lancing Pet Supplies
4 Queens Parade, BN15 9BA
Tel: 01903 750034
Mulberrys (Kolo Foods)
42 Crabtree Lane, BN15 9PQ
Shoreham-by-Sea
Listed alphabetically by store or retailer name:
Shoreham-by-Sea Garden Sack Retailers
Shop Name
Location
Beach Green Stores
134 Beach Road
Tel: 01273 454216
Co-op Food
22-26 High Street
Tel: 01273 452076
Craft News
30 Kingston Broadway
Tel: 01273 593000
Mansell Road Post Office
61 Mansell Road
Tel: 01273 452816
The Beach Shop
23-27 Ferry Road, BN43 5RA
Tel: 01273 453134
Sompting
Listed alphabetically by store or retailer name:
Sompting Garden Sack Retailers
Shop Name
Location
Sompting Mini Market
8 Seadown Parade, 16 Bowness Avenue, BN15 9TP
Tel: 01903 754174
Sompting Supermarket
117-119 Sompting Road, BN15 9LG
Tel: 01903 752165
Southwick
Listed alphabetically by store or retailer name:
Southwick Garden Sack Retailers
Shop Name
Location
Hanwells / Sussex Drug Stores
20 Southwick Square, BN42 4FJ
Tel: 01273 591558
Londis / Windmill Convenience Store
3-4 Windmill Parade,
163-183 Old Shoreham Road, BN42 4QB
Tel: 01273 592565
Worthing
Listed alphabetically by area, then by store or retailer name:
Central Worthing - Worthing Garden Sack Retailers
Shop Name
Location
All-In-Onez
137 Clifton Road, BN11 4DP
Tel: 07981 111 758
Heene Community Centre
Winchester Road
Tel: 01903 209997
Knights Hardware
43 Rowlands Road, BN11 3JJ
News and Cards
27 Richmond Road, BN11 1PN
Premier
5 Coronation Buildings, Ham Road, BN11 2NN
Tel: 01903 368355
Shoppers Local
8 The Broadway, Brighton Road, BN11 3EG
Sterk Foods
4-5 Boxgrove Parade, BN12 6BR
The Pet Shop
117 Rowlands Road
Tel: 01903 218388
Back to other Worthing areas or Back to top
Broadwater - Worthing Garden Sack Retailers
Shop Name
Location
Jay Food & Wine / Queen Street News
Shop 39 Queen Street, BN14 7BL
Tel: 01903 532757
Pet Emporium
12 Broadwater Street, BN14 9DA
Tel: 01903 202081
Worldwide Food & Wines
64 Broadwater Road, BN14 8AG
Back to other Worthing areas or Back to top
Durrington - Worthing Garden Sack Retailers
Shop Name
Location
Durrington Community Centre
New Road, BN13 3FJ
Tel: 01903 268287
Durrington Post Office
145 Salvington Road, BN13 2JW
Tel: 01903 265701
Peter May and Grandson
2 Cotswold Road, BN13 2LA
Tel: 01903 695255
Strandways Hardware
Shop 1, Strand Parade, BN12 6DH
Tel: 01903 244141
Back to other Worthing areas or Back to top
East Worthing - Worthing Garden Sack Retailers

| Shop Name | Location |
| --- | --- |
| None | --- |
Back to other Worthing areas or Back to top
Findon - Worthing Garden Sack Retailers
Shop Name
Location
Attle Locksmiths
Kings Parade, 154 Findon Road, BN14 0EL
Tel: 01903 233252
G & A Partners (Post Office)
214 Findon Road
Back to other Worthing areas or Back to top
Goring - Worthing Garden Sack Retailers
Shop Name
Location
Browns Natural Pet Store
278 Goring Road, BN12 4PE
Tel: 01903 243100
Denyer News
265 Goring Road, BN12 4PA
Tel: 01903 242361
Goring Hardware
20 Goring Road, BN12 4AJ
Tel: 01903 520777
Londis Shop
2 Aldsworth Parade, BN12 4TX
Tel: 01903 246077
West Worthing Post Office
112 George V Avenue, BN11 5RU
Tel: 01903 247410
Back to other Worthing areas or Back to top
High Salvington - Worthing Garden Sack Retailers

| Shop Name | Location |
| --- | --- |
| None | --- |
Back to other Worthing areas or Back to top
Salvington - Worthing Garden Sack Retailers
Shop Name
Location
Welcome
4 Half Moon Parade, BN13 2EL
Tel: 01903 695233
Back to other Worthing areas or Back to top
Tarring - Worthing Garden Sack Retailers
Shop Name
Location
Tarring News & Wine
3-4 Market House, Church Road, BN13 1HF
Tel: 01903 521166
Teba Foods
4-6 South Street, BN14 7LH
Tel: 01903 386403
West Station News
12 Station Parade, Tarring Road, BN11 4SS
Tel: 01903 248789
Back to other Worthing areas or Back to top
Thomas A Becket - Worthing Garden Sack Retailers
Shop Name
Location
Shreejee News Food & Wine
157 South Farm Road, BN14 7BB
Tel: 01903 530468
South Farm Road Food and Wine
145 South Farm Road, BN14 7AX
Tel: 01903 230935
Need assistance with this service?
Get in touch:
Garden Waste (including bin day queries)
Page last updated: 20 December 2021
Back to top