Where to buy garden waste sacks
Note: only AWCS garden waste sacks with our logo on will be collected (see photo). Sacks must be placed kerbside for collection. Crews will not enter properties to remove sacks and will not remove sacks/bags without the council logo.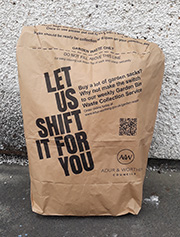 Garden waste sacks can be purchased for £1.50 per sack (price correct as at 1st April 2023).
Please visit the garden waste collection page for information on how to use your garden waste sacks.
Find a garden sack retailer:
---
Lancing
Listed alphabetically by store or retailer name:
Lancing garden sack retailers
Shop Name
Location
Fircroft News
92 Manor Road, BN15 0HD
Tel: 01903 753037
Gardner & Scardifield - Hardware Shop
2-16 Penhill Road, BN15 8HJ
Tel: 01903 755774
Gardner & Scardifield - Garden Centre
1-3 South Street, BN15 8AE
Tel: 01903 765165
Joyson News & Off Licence
401 Brighton Road, BN15 8JX
Tel: 0843 2582772
Lancing Pet Supplies
4 Queens Parade, BN15 9BA
Tel: 01903 750034
Mulberrys (Kolo Foods)
42 Crabtree Lane, BN15 9PQ
Shoreham-by-Sea
Listed alphabetically by store or retailer name:
Shoreham-by-Sea garden sack retailers
Shop Name
Location
Beach Green Stores
134 Beach Green, BN43 5YA
Tel: 01273 454216
Co-op Food
22-26 High Street, BN43 5DA
Tel: 01273 452076
Craft News
30 Kingston Broadway, BN43 6TE
Tel: 01273 593000
Mansell Road Post Office
61 Mansell Road, BN43 6GT
Tel: 01273 452816
The Beach Shop
23-27 Ferry Road, BN43 5RA
Tel: 01273 453134
Sompting
Listed alphabetically by store or retailer name:
Sompting garden sack retailers
Shop Name
Location
Sompting Mini Market
8 Seadown Parade, 16 Bowness Avenue, BN15 9TP
Tel: 01903 754174
Sompting Supermarket
117-119 Sompting Road, BN15 9LG
Tel: 01903 752165
Southwick
Listed alphabetically by store or retailer name:
Southwick garden sack retailers
Shop Name
Location
Hanwells / Sussex Drug Stores
20 Southwick Square, BN42 4FJ
Tel: 01273 591558
Londis (Windmill Convenience Store)
3-4 Windmill Parade,
163-183 Old Shoreham Road, BN42 4QB
Tel: 01273 592565
Worthing
Listed alphabetically by area, then by store or retailer name:
Central Worthing garden sack retailers
Shop Name
Location
All-In-Onez
137 Clifton Road, BN11 4DP
Tel: 07981 111 758
Heene Community Centre
122-126 Heene Road, BN11 4PL
Tel: 01903 209997
Knights Hardware
43 Rowlands Road, BN11 3JJ
News and Cards
27 Richmond Road, BN11 1PN
Premier
5 Coronation Buildings, Ham Road, BN11 2NN
Tel: 01903 368355
Shoppers Local
8 The Broadway, Brighton Road, BN11 3EG
Sterk Foods
4-5 Boxgrove Parade, BN12 6BR
The Pet Shop
117 Rowlands Road, BN11 3LA
Tel: 01903 218388
Back to other Worthing areas or Back to top
Broadwater, Worthing, garden sack retailers
Shop Name
Location
Findon Framing Co
8 Broadwater Street, BN14 9DA
Tel: 01903 824420
Jay Food & Wine / Queen Street News
Shop 39 Queen Street, BN14 7BL
Tel: 01903 532757
Worldwide Food & Wines
64 Broadwater Road, BN14 8AG
Back to other Worthing areas or Back to top
Durrington, Worthing, garden sack retailers
Shop Name
Location
Durrington Community Centre
New Road, BN13 3FJ
Tel: 01903 268287
Durrington Post Office
145 Salvington Road, BN13 2JW
Tel: 01903 265701
Peter May and Grandson
2 Cotswold Road, BN13 2LA
Tel: 01903 695255
Strandways Hardware
Shop 1, Strand Parade, BN12 6DH
Tel: 01903 244141
Back to other Worthing areas or Back to top
East Worthing, Worthing, garden sack retailers

| Shop Name | Location |
| --- | --- |
| None | --- |
Back to other Worthing areas or Back to top
Findon, Worthing, garden sack retailers
Shop Name
Location
Attle Locksmiths
Kings Parade, 154 Findon Road, BN14 0EL
Tel: 01903 233252
G & A Partners (Post Office)
214 Findon Road, BN14 0EJ
Back to other Worthing areas or Back to top
Goring, Worthing, garden sack retailers
Shop Name
Location
Browns Natural Pet Store
278 Goring Road, BN12 4PE
Tel: 01903 243100
Denyer News
265 Goring Road, BN12 4PA
Tel: 01903 242361
Convenience Store (Goring Food & Wine)
2 Aldsworth Parade, Goring Way, BN12 4TX
Tel: 01903 246077
West Worthing Post Office
112 George V Avenue, BN11 5RU
Tel: 01903 247410
Back to other Worthing areas or Back to top
High Salvington, Worthing, garden sack retailers

| Shop Name | Location |
| --- | --- |
| None | --- |
Back to other Worthing areas or Back to top
Salvington, Worthing, garden sack retailers
Shop Name
Location
Welcome
4 Half Moon Parade, BN13 2EL
Tel: 01903 695233
Back to other Worthing areas or Back to top
Tarring, Worthing, garden sack retailers
Shop Name
Location
Tarring News & Wine
3-4 Market House, Church Road, BN13 1HF
Tel: 01903 521166
Teba Foods
4-6 South Street, BN14 7LH
Tel: 01903 386403
West Station News
12 Station Parade, Tarring Road, BN11 4SS
Tel: 01903 248789
Back to other Worthing areas or Back to top
Thomas A Becket, Worthing, garden sack retailers
Shop Name
Location
Shreejee News Food & Wine
157 South Farm Road, BN14 7BB
Tel: 01903 530468
South Farm Road Food and Wine
145 South Farm Road, BN14 7AX
Tel: 01903 230935
Need assistance with this service?
Get in touch:
Garden Waste (including bin day queries)
Page last updated: 06 November 2023
Back to top