Refuse
Request:
About the household refuse service:
Where you looking for:
See also:
Household refuse collection service
Electrical and electronic goods must not be put in your refuse bin for collection, instead they should be taken to your local Household Waste Recycling Site (Tip).

Garden waste must not be put in your refuse bin for collection, instead you should apply for the garden waste service or purchase a garden waste sack.
Alternate weekly waste collections have been introduced across Adur and Worthing in September 2019 in a bid to boost recycling across our communities - find out more
Most houses have a wheelie bin for their refuse which has a dark grey/black lid and is embossed with one dot
Please note that only waste placed in the wheelie bin will be collected - no additional 'side waste' is accepted (exceptions apply: immediately following bank holidays; or during periods of snowy/icy weather due to missed collections)
Putting your refuse out for collection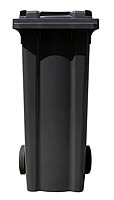 Please ensure that all items you put out for collection are contained within your wheelie bin.
Your household waste must be put out on the front boundary of your property close to the pavement in a clearly visible location (or in your bin store if that's where it's normally collected from) ready for collection by 6:30am on the morning of your collection day.
Please avoid blocking paths or other public areas.
Additional waste not contained within the wheelie bin will not be accepted and may cause a littering nuisance if attacked by animals and/or birds.
Too large for collection?
You can:
Too hazardous for collection?
For details on how to dispose of items such as asbestos, gypsum and plasterboard please see our hazardous waste page.
---
Request a larger refuse wheelie bin
Please Note:
If you require a bigger or larger bin for your household refuse, we can supply one in certain special circumstances.
We don't supply households with a larger bin if there are fewer than five people resident unless there are exceptional circumstances.
---
Nappies
Babies nappies take up a lot of space in your refuse wheelie bin and are also environmentally unfriendly.
Have you considered trying the Real Nappy Initiative?
Modern cloth nappies are less expensive and good for your baby as well as being environmentally friendly:
about eight million disposable nappies are thrown away every day in the UK
most of these end up being buried in landfill sites
we all have to pay for this waste to be disposed of
it is becoming more expensive as we run out of holes to fill
Good for your baby
Modern cloth nappies have come a long way since the old-style terry that required lots of pinning. They are available now in a wide range of sizes and styles and are shaped, fitted and fasten easily without the need for pins.
Great for your pocket
You could save up to £500 per child by using washable nappies. They have biodegradable liners which can be flushed down the toilet and the nappies can be washed in a normal washing machine, with no boiling or scrubbing necessary.
Excellent for our environment
Disposable nappies make up approximately five per cent of all household rubbish. In West Sussex, we are throwing away 77,000 disposable nappies every day. Almost all nappy waste is buried in landfill sites, producing methane which is a powerful greenhouse gas.
Find out more ...
For information and advice about nappies and reducing their impact on the environment see:
See also:
For business advice please contact the Recycling, Refuse and Waste team (see contact details right).
---
Contact details
Contact Recycling, Refuse and Waste
Recycling, Refuse and Waste
Adur & Worthing Council Services,
9 Commerce Way,
Lancing Business Park,
Lancing,
West Sussex,
BN15 8TA