How to use your refuse bin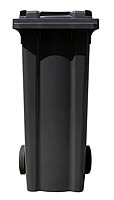 Most households will have a wheelie bin with a dark grey or black lid and embossed with one dot for their general household waste.
We operate an alternate weekly refuse collection. This is part of our drive to help reduce waste and boost recycling across Adur and Worthing, which is currently only at 36%.
Please make sure:
What can't go in your refuse bin:
If you have a compost bin then fruit and vegetable peelings etc can be put in that - see home composting.
Disposing of large items
If an item is too large to fit in your bin you can take it to the tip.
If you are unable to take it to the tip yourself we offer a bulky waste collection service.
Cooking oil, fat and grease
Oil, fat and grease should not be put down the drain. Even if it can be broken down with hot soapy water, it can resolidify once cooled and block drains and sewers.
To avoid blocking your drains, follow Southern Water's advice on:
Need assistance with this service?
Get in touch:
Recycling, Refuse and Waste
Page last updated: 18 August 2021
Back to top