Days out in Adur: The South Downs
Visit the South Downs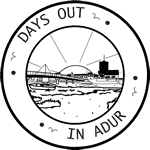 A day out exploring the stunning sights and activities the South Downs has to offer will never go amiss. The beautiful landscape, made up of chalk hills, stretches from Sussex to Hampshire and is visited by people from all over the UK.
Many of the sites and locations within the Downs are looked after not only by the South Downs National Park Authority, but also by Adur & Worthing Councils.
With plenty of places to stop for food and drink, there are relaxing or more adventurous times to be had for all ages and abilities near to Adur.
Mill Hill Local Nature Reserve (LNR)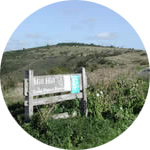 The South Downs is home to Mill Hill Local Nature Reserve - an area which is popular for its outstanding views across the Adur Valley.
The site is also a rare and diverse habitat which is important because of its chalk grassland. Mill Hill has a 500-metre easy access trail, which enables those who are perhaps less mobile to explore - as there are no steps or steep gradients on the trail - and benches are located every 150 metres to provide plenty of resting places.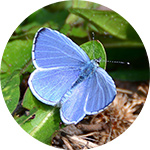 In Spring and Summer the Mill Hill is bursting with wild flowers and butterflies, including the rare Adonis Blue butterfly.
Lancing Ring Local Nature Reserve (LNR)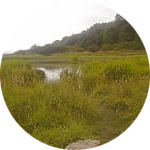 One of Adur's hidden beauties, Lancing Ring is a local nature reserve that is also important for its chalk grassland, but has other habitats such as a small woodland and a dewpond.
Eye-catching floral displays of orchids, cowslips and broomrape are often spotted in MacIntyres Field. The reserve is owned by Adur District Council and looked after in partnership with the help of The Friends of Lancing Ring - a group which carry out 'task days' on the 3rd Sunday of every month.
South Downs National Park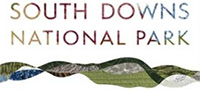 The South Downs National Park is a destination not to be missed. With market towns, bustling villages, ancient woodland and gorgeous heathland, it covers more than 1,600 sq km of lowland landscapes.
The park is also known for its rich variety of wildlife and habitats, including rare and internationally important species, cultural heritage, and opportunities for recreational activities and learning experiences.
You can walk, cycle or even horse ride through parts of the park. It also offers air sports, kayaking and trail running.
Downs Link

This picturesque long-distance route for walkers, horse riders and cyclists links the North Downs Way in Surrey with Shoreham-by-Sea in West Sussex, and stretches 37 miles (59km).
The Downs Link follows a disused railway line, the route crosses the Surrey Hills and the South Downs through wood areas with views across nearby fields, as well as small meadow areas and wetland features.
Mountain Biking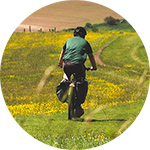 For the more adventurous among you, there is an area part of the South Downs which is dubbed as a 'haven' for mountain bike enthusiasts. The South Downs Way is a 160km long trail which runs from Winchester to Eastbourne - but it does include shorter routes than can be used by families.
You can find more information here:
South Downs Way
The South Downs Way – a 100 miles (160 Km) long National Trail which runs from Winchester to Eastbourne offers a challenge whilst shorter routes more suitable for families can also be accessed.
The route follows old tracks and drove ways along the ridge of the chalk Downs; from the cathedral city of Winchester in the west to the seaside town of Eastbourne in the east. The distinctive chalk and flint route is easy to follow and usually firm under foot. You'll enjoy wide open views north over the Weald and south to the English Channel. Discover hidden churches, cosy pubs and, as the seasons change, everything from bluebells to blackberries.
This leads past Truleigh Hill where you can find a YHA for walkers and cyclist. Truleigh Hill was also once the site for a Rotor Radar Station which was decommissioned in 1958.
Coombes Farm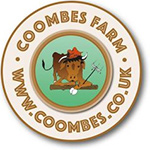 This working farm stretches from the hills of the Downs to the banks of the River Adur and is where the Passmore family have been farming since 1901.
It's home to 'Passies Ponds' - created due to Trevor (Passie) Passmore's love of fishing. There are three lakes that will suit both the pleasure and match anglers with a total of 150 pegs. A big visitor attraction at the farm is lambing season - and while it's finished for 2021 - it draws in families every Spring who flock to see lambs and calves being born.
The family also carry out tractor rides and tours at the farm, although previous Covid-19 restrictions have changed the way they operate over the past year. For updated information visit the:
And finally ...
Once you've built up an appetite, you will be spoilt for choice with places to eat and stop for a drink in Shoreham or Lancing.
Page last updated: 26 April 2022
Back to top