Introduction to the Worthing Local Development Framework
What is a Local Development Framework?
A Local Development Framework (LDF) is a collection of documents that collectively deliver the spatial planning strategy for an area.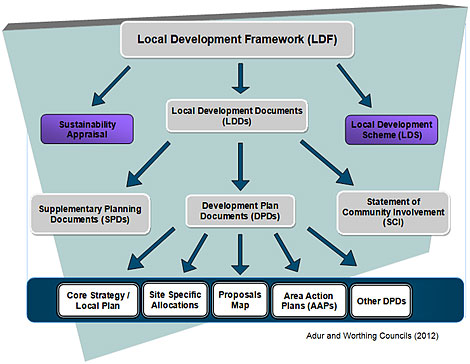 Introduction to Worthing's Local Development Framework
The Local Development Framework (LDF) is a portfolio of documents (see below) which together will guide development within Worthing. Collectively these documents set out the Council's planning policies for meeting the community's economic, environmental and social needs where this affects the development and use of land.
To help keep the community informed of the latest Planning Policy news and progression of the Local Development Framework, the Council publishes a regular Worthing Planning Policy Newsletter. You can subscribe to these Newsletters or view all previous editions.
Additional information relating to the national planning context and other areas of work within the remit of 'Planning Policy', but not specifically related to the LDF, can be viewed in the Policy pages.
Key Elements of the Worthing Local Development Framework
A brief summary of the key documents that make up the Worthing LDF is set out below along with links to further information:
For more information on the LDF, please contact the Planning Policy Team.
Need assistance with this service?
Get in touch:
Planning Policy
Page last updated: 09 September 2021
Back to top