Why do we need to take climate action in Adur and Worthing?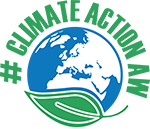 From 31st October to 12th November 2021, leaders from across the world met to focus on the global action needed to tackle the climate emergency at the 26th UN Climate Change Conference of the Parties - COP26 - in Glasgow.
A shared climate and nature plan
Here in Adur and Worthing we are committed to tackling climate change and protecting our natural environment. The Councils declared a climate emergency in 2019 and have set a target to be carbon neutral by 2030. We have also signed the UK 100 pledge for the whole area of Adur and Worthing to reach Net Zero by 2045.
The Councils are responsible for less than 1% of total emissions for the whole of Adur and Worthing, so it is vital that everyone, from business, to public sector organisations, to landowners and residents, are all aware of the actions that they can and should take to help achieve the area-wide target of reaching Net Zero by 2045.
Recognising that by working together we can have a far greater impact, SustainableAW is a shared climate and nature plan between the Councils and the wider community to create a more sustainable future for our area:
A shared vision
We plan to address some of the most pressing environmental challenges facing all of us, including climate change, the loss of natural habitats, unnecessary waste and poor air quality. Our aim is to ensure everyone in our community is able to enjoy green spaces and access affordable, clean energy and transport.
In support of this vision, SustainableAW climate and nature plan focuses on ten key areas:
The plan showcases just some of the extraordinary and coordinated activity being delivered across our community.
The plan will be reviewed annually and progress will be reported back to the Councils' Joint Strategic Committee.
Connecting with the wider community
The launch of the revised Sustainable AW climate and nature plan follows an extensive period of engagement with council officers and the wider community, with over 60 actions being put forward and over 200 organisations involved in the process.
In March 2020, we worked in partnership with Worthing Climate Action Network and Transition Town Worthing to hold the Zero 2030 Community Climate Conference. For the resources from the Climate Conference see:
The plan also helps to address many of the eighteen recommendations which were put forward at the Adur & Worthing Climate Assembly in Autumn 2020. This was an important and useful new type of democracy that the councils engaged in to listen to and understand the views of local residents towards climate change. Find out more about the:
Further information
For an update on the success of SustainableAW 2019-20, please see:
SustainableAW builds on commitments already made in the Councils' Platforms for our Places.
Useful links
Need assistance with this service?
Get in touch:
Sustainability
Page last updated: 19 April 2023
Back to top