The Gallops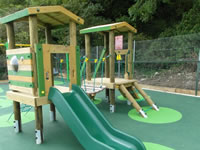 Bost Hill,
Vale Drive,
Worthing,
West Sussex,
BN13 3DA
Facilities and attractions






---
See also:
Equipment list for The Gallops playground
The Gallops playground was completely refurbished in 2016. A totally new layout was designed with exciting play equipment, continuous safety surfacing, litter bins and seating. The following is a complete list of the items installed:
Toddlers (2 to 6 years)
Toddler multi-play unit
Sprung mobile
Cradle swing unit (with inclusive* seat)
Interactive play panels
Multi-colour graphics inlaid in the safer surfacing
Spinning pole
Flush (inclusive*) roundabout
Juniors (6 to 12 years)
Basket (inclusive* group swing)
Cable rope swing
See-saw
Large multi-play climbing and sliding unit
Junior (flat swings)
Tornado spinning hat
Teenagers
Teen shelter
Tarmac basketball area with 3 basketball hoops
* Inclusive means suitable for people living with a disability as well as those without a disability.
Outdoor Gym
An outdoor fitness area was installed in November 2017. It features a range of the latest push, sit and step-up equipment that includes hydraulic pistons that can be adjusted to suit different strength levels.

The Gallops Outdoor Fitness Equipment (1,333KB)
This large Downland site with wooded slopes is situated in Findon Valley and was purchased by the Council in 1957.
The Gallops has been designated a Site of Nature and Conservation Interest (SNCI).
Need assistance with this service?
Get in touch:
Environmental Services
Page last updated: 08 August 2022
Back to top