Marine Gardens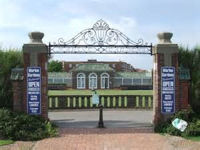 Marine Gardens,
West Parade,
Worthing,
West Sussex,
BN11 5EF
See also:
Facilities and attractions
About this site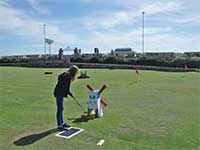 Marine Gardens is a compact but very popular park on the seafront in West Worthing, laid out in 1930.
The gardens lie 1.25 miles west of Worthing Pier and are open to the public all year round.
The Gardens are accessible off Marine Parade on the Seafront and Winchelsea Gardens to the North of the site, there is plenty of on street parking around the Park.
The park is packed with ornamental and formal planting. Bowls and putting is available daily during the summer months and there are public conveniences open to the public from 9:30am to dusk every day, located at the Bowls Pavilion.
The site is flat, but there is a ramp down into the gardens from the seafront; paths are wide and accessible around the whole site.
This is a popular site to sit and spend some time relaxing in the peaceful environment enjoying bowls being played or for visiting the popular and busy privately run restaurant. The Waterwise Playground and Waterwise garden are on the foreshore only a few metres to the west.
Marine Gardens restaurant is situated on site and opens daily.
Bowling
When the season commences in late April, the bowling clubs, Worthing Bowls Club and Homefield Bowls club, sell season tickets and will make their own arrangements for allocating play on the bowling greens.
Daily play will still take place and the public can make arrangements direct with the bowling clubs and pay their fee to play bowls daily. Mats, shoe hire and jacks will be available for those who wish to turn up and play.
Should anybody not be able to play due to there being no bowling club official in attendance, please contact the Parks Group and we will pass on your details to the bowls clubs so they can make arrangements with you direct.
Marine Gardens Bowling Club play here and are always welcoming to potential new members - for details see the Marine Gardens Bowling Club website.
Traditional putting is played during the summer months between 10am to 6pm every day. For further details on sports play at Marine Gardens, please contact our Sports booking team.
Bowling prices:
Prices from 1st April 2023 to 31st March 2024. Prices are subject to an annual increase in April, prices correct as at 1st April 2023.
Adult season ticket: £136.00
Retired season ticket: £120.00
New season ticket: £91.50
Half season ticket: £91.50
Junior season ticket: £57.00
Casual session ticket: £9.25
Taster session: £4.25
Putting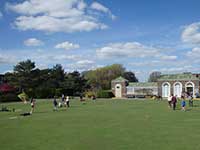 Putting is open:
every day from March to 30th September
from 9:30am. Last round 5pm
throughout the season if the weather conditions are bad, the putting green will be closed
Putting at Marine Gardens is run by a concession.
If you require any further information please telephone 07939 070 388.
Need assistance with this service?
Get in touch:
Environmental Services
Sports Booking Team
Page last updated: 12 April 2023
Back to top