Waterwise Play Area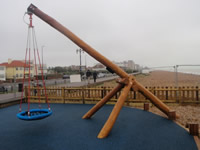 West Parade
Worthing
West Sussex
BN11 5EB
Facilities and attractions

---
Equipment list for Waterwise playground
Smaller children's play equipment - 2 to 6 years typically
Older children's play equipment - 6 years onwards typically
About this site
This playground project was part of Worthing Council's Big Lottery allocation funding of which £100k, plus a further £50k from S106 (Developers contributions) was spent on building the playground.
The playground has a maritime theme and the designer had discretion in their design for equipment, surfacing, pathways and was constructed primarily utilising timber with either natural finish or natural colours drawn from the surrounding materials. An element of accents or highlights was allowed using a range of colours, but it did make up a small proportion only of the project.
The chosen design splits the playground into three distinct areas: A Galleon in the sea, sand play items representing the beach and finally the land elements including rope swings, seesaw and a large spinning roundabout. To add to the character there are touches like a large wooden turtle, shark, and pirate with a rotating torso.
The adjacent Waterwise garden was used as an example and the brief was to use it and reflect this in the playground so that it would not be bright and garish, but subdued and reflect the adjacent environment. The surfacing is a mixture of sand, beach shingle and wet pour rubber surfacing. The playground is a mixture of active play and themed items to allow children to use their imagination as well as engage in physical activity.
It was opened by the Mayor of Worthing on 16th November 2010 and to date has been very popular and full of children every day since opening.
Need assistance with this service?
Get in touch:
Environmental Services
Page last updated: 09 August 2022
Back to top