Waterwise Garden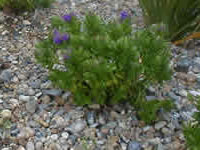 West Parade,
Worthing,
West Sussex,
BN11 5EB
Facilities and attractions

About this site
A new shingle garden has been constructed on the Foreshore at West Parade in Worthing to highlight the need to water conservation during this period of reduced rainfall in the south east of the country.
The garden shows what can be achieved by gardeners using drought tolerant plants, many of which are characteristic of vegetated shingle and exhibit adaptations to conserve scarce water in this extreme environment.
The project has cost £50,000 and is funded by a partnership between Worthing Borough Council's seafront improvement budget and Southern Water.
What plants are planted at this site?
The following plants (and cultivated varieties of them) have all been used in the garden. Once established, these tough plants can survive hostile, near drought conditions.
Native Coastal Plants:
Eryngium maritimum (Sea Holly)
Limonium binervosum (Sea Lavender)
Silene uniflora (Sea Campion)
Sedum album (White Stonecrop)
Sedum anglicum (English Stonecrop)
Crambe maritima (Seakale)
Armeria maritima (Thrift)
Non-Native Garden Plants:
Erigeron 'Sea Breeze'
Verbena rigida
Tamarix ramosissima (Tamarisk)
Tamarix tetrandra
Hebe albicans
Euonymus japonicus
Pittosporum tobira
Griselinia littoralis
Phormium tenax (New Zealand Flax)
Cordyline australis (Cabbage Palm)
Cordyline australis
Eryngium agavifolium (Perennial Wallflower)
Erysimum 'Bowles Mauve'
Need assistance? Get in touch:
Environmental Services
Problem with this page?
Page last updated: 08 December 2020