Marine Drive
(the 'Greensward' - west)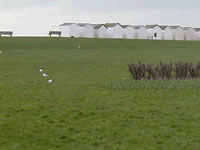 Marine Drive,
Worthing,
West Sussex,
(near BN12 4QN)
Facilities and attractions


---
See also
About this site
This area of open space, to the west of the town, is known locally as the 'Greensward'.
This beachside green attracts informal passive and active leisure pursuits throughout the year.
It is also possible to hold a barbeque at this site, For more information please see our barbeque page.
The 'Greensward'
The 'Greensward' is a generic term for the grass area either side of the Plantation on Marine Drive that stretches from Eirene Avenue/Sea Place (near George V Avenue) in the east and Sea Lane, Ferring, in the west.
It is about 3 kilometres (1.8 miles) long and is on Marine Drive which turns into Marine Crescent (at the roundabout at the junction with Sea Lane, Worthing).
This area of open space is a continuation westwards of Marine Crescent (the 'Greensward' - east).
See also:
Need assistance with this service?
Get in touch:
Environmental Services
Page last updated: 09 August 2022
Back to top