Homefield Park and playground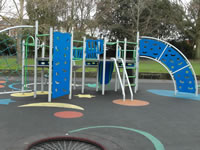 Newland Road,
Worthing,
West Sussex,
BN11 2RH
You may also be interested in:
Facilities and attractions









‌
---
See also:
---
Equipment list for Homefield Park playground
Smaller children's play equipment - 2 to 6 years typically
Older children's play equipment - 6 years onwards typically
Skateboard/BMX facilities
Multi-sports - football/basketball
Two Table Tennis tables are available for visitors to the park to use for free
This Victorian town park was originally known as the People's Park.
The park contains a play area, basketball pad and a junior football pitch.
Football pitch bookings
To book a football pitch please contact our Sports Booking Team.
Tennis (and Table tennis) at Homefield Park
Tennis
The tennis courts at Homefield Park were refurbished 2018. There are six tennis courts with various ways of playing:
Annual family pass at just £57.00
Pay and play at £8.50 per hour for adults
Free community sessions during the week (limited sessions)
Coaching sessions (details to follow)
Prices from 1st April 2023 to 31st March 2024. Prices are subject to an annual increase in April, prices correct as at 1st April 2023.
Homefield Park tennis courts are a short walk away from Worthing Town Centre (including bus and rail links) and adjacent to Worthing Hospital. The courts themselves are situated within Homefield Park and face onto Park Road. Parking directly outside the venue is limited, but the courts are only a short walk from Beach House Park car parks.
This venue has recently benefitted from a complete refurbishment and six outdoor tennis courts (not floodlit) have been created which offer a high quality playable surface for users of all standards. Homefield Park Tennis Courts is also the first of our venues to have a gate-access system installed which integrates with ClubSpark (online booking system).
In addition to an improved surface and new fencing, Homefield Park Tennis Courts will also be offering a vibrant coaching programme for players of all ages and abilities courtesy of our coaching provider, [Coaching details to follow in early 2019].
Free of charge
Tennis court use for members of the public is available to encourage community use providing they have registered on the ClubSpark system online. Play will be limited to one hour duration per person per day between the hours of 9am and 11am Monday to Friday. Free of charge access can only be booked a maximum of two days in advance.
Members of the public wishing to play free of charge should initially email a request to environmentalservices@adur-worthing.gov.uk and provide their name and email address requesting that a community use account be set up in their name. Once done, they will receive an email from ClubSpark inviting them to finalise their registration to allow them to play tennis during the above times free of charge.
Annual pass (members season tickets)
Individual or family passes can book a maximum of four bookings in any seven-day period of up to 1 hour duration each time. The maximum period a member can book in advance is 14 days.
Pay to play
Customers may book a maximum of seven bookings per seven-day period of a maximum duration of two hours each time. The maximum period a Pay to Play customer can book in advance is seven days.
ClubSpark - make a booking
ClubSpark is an online pay to play system that provides you with a unique access code to allow access onto the courts via a security gate. Click on the link below to take you to the Homefield Park booking page to book and pay for your tennis court hire at Homefield Park:
Contact Details - For all enquiries:
Table Tennis
Two Table Tennis tables are available for visitors to the park to use for free.
Outdoor fitness equipment
Brand new Outdoor Fitness Equipment was installed in January 2017 adjacent to the Playground in Homefield Park. The units are surfaced for all year round access and can be used by all age ranges to give a full body work out. The equipment was positioned next to the playground to allow parents to be able to exercise themselves whilst supervising their children close by.
The equipment project of £20k was funded by Worthing Borough Council's Capital funding programme and helps make the park a fun and interesting experience for a wide range of visitors and the fitness equipment helps tackle inactivity and rising obesity levels.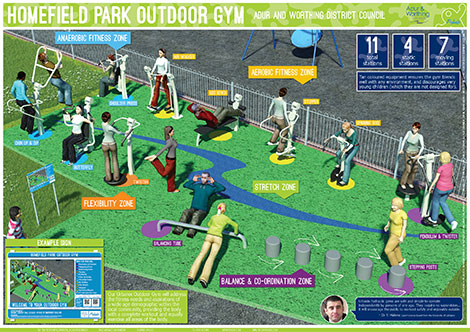 Skateboard park
Homefield Park skatepark was originally constructed in 2000 with a lottery grant, funding from the Council and a contribution from Sussex Police. In 2016 an extensive refurbishment following consultation with the local skating community.
The £157k funding from the Councils' Capital funding programme and s106 developers contributions allowed many new features to be installed, some of which include: high grind ledges, lower grind block, 5 ft quarter pipe, 5 ft volcano, and a long round grind rail for novices and experienced skaters. The surface was especially improved using 'Utiplay' surfacing to give a high quality skating experience.
The park was designed in direct consultation with the skaters and BMX'ers of Worthing. This has lead to an integrated design, ideal for laps and lines across the driveway, grind box, or the various jump boxes. In addition, there is a mini ramp half pipe for other tricks.
The design of the main jump box in the centre of the park has many different styles of ramps to accommodate different skill levels. The smaller driveway and the pyramid can be used by quite low skill levels. The jump box and grind box can be used to pull off more spectacular, technically demanding tricks. The mini ramp half pipe offers an additional technical focus for more advanced riders of all disciplines.
The skatepark is open all year round, although it is not lit at night, and riding the ramps in darkness is not advised. This park is not locked at night.
The Skatepark is ideal for use with boards, blades or BMXs.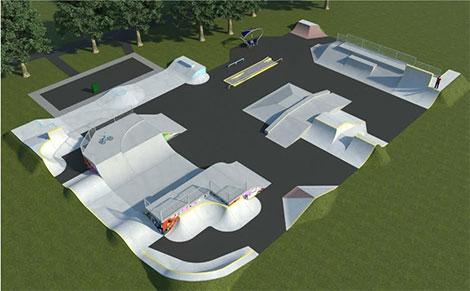 History of Homefield Park
Homefield Park (44,109.85 square metres, or 10.89 acres) is to the east of Worthing town centre, less than a mile from the seafront.
This Victorian town park was originally known as 'The People's Park' or sometimes simply as 'The Park' and was the first municipal park in Worthing (1880).
The east end of the park was landscaped around an ornamental lake, which was formed by damming the Teville Stream, which runs through parts of Worthing and eventually into the English Channel.
The layout included a rustic footbridge over the water and paths meandering through ornamental shrubberies, but most of the park was grassland where carnivals and other events were held.
The decorative pond was filled in around 1930, with the expansion of Worthing Hospital absorbing the south part of the park.
Homefield Park was laid out to the north of the current Worthing Hospital when Fanny Heather left seven acres of land in 1876 to the Local Board of Health for public recreation. Mr R. Dawes and Sir Robert Loader. M.P. donated further land and the park increased in size to over 14 acres.
Photo: Homefield Park, taken in 1930 - courtesy of Worthing Museum ©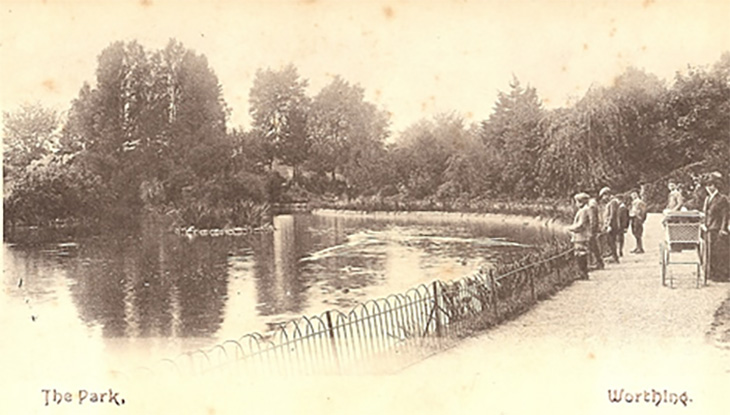 The park has a history of bowling and cricket being played there. It was also once the site for the Council nursery.
What was once the Park Manager's House is now a private dwelling.
Homefield Park today
There is a measured red walk route that has been marked out along the paths in Homefield Park, adjacent to Worthing Hospital in a bid to encourage people to walk regularly to improve their fitness. The 'Hearty Walk' is the brainchild of 'Cardiac Rehabilitation Support (CRS)' a local registered charity. The committees are formed of cardiac patients who have previously attended Worthing Hospital's Cardiac Rehabilitation programme after a heart problem, and their carers.
The park currently provides:
Play area
Basketball
Football
Skateboard park
Events take place in the park
Homefield Park is very much at the heart of the community (it is situated within Central ward) not just because of its location, but also because it serves a local population that is part of the second-largest town in West Sussex (100,000 population) after Crawley.
The park is well used by a variety of people such as:
families using it as a picnic area and meeting place, as well as using the play equipment
local football clubs
skateboarders
basketball players
patients, visitors and staff of Worthing Hospital
dog walkers
runners/joggers
local businesses
Car parking is available on street or in the town's car parks.
Need assistance with this service?
Get in touch:
Parks Group
Sports bookings, Parks Group
Page last updated: 04 April 2023
Back to top