Broadwater Green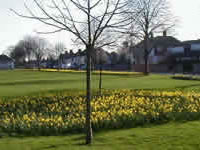 Broadwater Street West,
Worthing,
West Sussex,
BN14 9DJ
Facilities and attractions
See also:
About this park
One cricket wicket dominates the centre of this triangular tree lined 'village green' site.
A cricket pavilion with public conveniences serves the pitch, the outfield of which is used for a limited number of other events.
A separate practice cricket net is also available.
In winter the area is used for junior football.
Car boot sales on Broadwater Green
Broadwater Green is well known locally for its popular Car Boot Sales held during the Spring and Summer season (April to September).
For full details (including contact details for car boot sales) please see:
How do I book a cricket or football pitch at this site?
To book a cricket or football pitch please contact our Sports Booking Team.
Broadwater Green is also used to hold charity events, fun fairs and fetes throughout the year.
Need assistance with this service?
Get in touch:
Sports Booking Team
Environmental Services
Car Boot Sales - Place and Economy Team
Page last updated: 17 August 2021
Back to top