Adur Local Plan 2017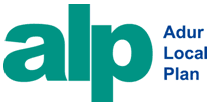 The Adur Local Plan was adopted at a meeting of Adur Full Council on 14th December 2017. The new Local Plan sets the strategic development and land-use priorities for Adur (outside the South Downs National Park) up to 2032, and contains the policies against which development management decisions within that area will be made. It replaces the saved policies of the Adur Local Plan 1996 as the Council's Local Plan.
Local Plan documents
Maps
The Adur Policies Map 2019 shows the Policies Map 2017 and the Shoreham Harbour Joint Area Action Plan:
Please note that due to the size and complexity of these maps they cannot be checked for accessibility. If you need assistance with the documents please contact the Planning Policy Team: planning.policy@adur-worthing.gov.uk
See also the interactive version of the map. Please note this has not yet been updated to reflect the adoption of the Shoreham Harbour Joint Area Action Plan.
Adoption statements
Need assistance with this service?
Get in touch:
Planning Policy
Page last updated: 10 November 2023
Back to top