Halloween and trick or treating information and advice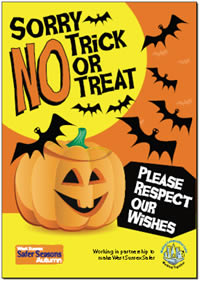 Halloween (or Hallowe'en) - the night of October 31st.
Halloween activities can include: trick-or-treating; bonfires and fireworks; ghost tours; costume parties; visiting 'haunted houses'; carving Jack-o'-lanterns; reading scary stories and watching horror movies.
Although Halloween can be a great deal of fun for those involved, for many it is a particularly distressing (or unwanted) time of year, particularly for some of the more vulnerable members of our communities - especially the elderly.
Please remember that not everyone will want to take part in your Halloween events or trick or treating - so please respect their point of view.
Useful downloads, including a poster you can put this in your window, or on your door, to help try and stop unwanted callers:
See also:
and on other external websites:
Need assistance? Get in touch:
Safer Communities Team
Problem with this page?
Page last updated: 03 November 2016