Steyne Gardens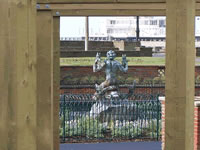 The Steyne,
Worthing,
West Sussex,
BN11 1NZ
Facilities and attractions


---
See also
---
This town centre open space whose southern end faces the sea, acquisition was defrayed by Lady Loder.
At the southern end of the gardens, facing the sea, is a war memorial commemorating the Boer War.
The site is used for various events throughout the year including the Seafront Fayre in summer and the Worthing Ice Rink in winter.
Need assistance with this service?
Get in touch:
Environmental Services
Page last updated: 08 December 2020
Back to top