Pond Lane Recreation Ground
and playground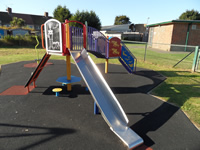 Pond Lane
Worthing,
West Sussex,
BN13 2RH
Facilities and attractions







‌
---
See also:
Equipment list for Pond Lane Recreation playground
Smaller children's play equipment - 2 to 6 years typically
Older children's play equipment - 6 years onwards typically
Multi-sports - football/basketball/cricket
Teen shelter/meeting point
Purchased in 1936, this site has:
one senior size football pitch
one junior size football pitch
a pavilion
play area
amenity building
toilets
How do I book a football pitch at this site?
To book a football pitch at this site, please contact our Sports Booking Team on 01273 263060.
New play equipment
The first stage of this two part project has been completed and local children and parents have begun enjoying the exciting new equipment.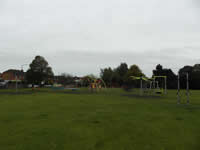 SMP playgrounds have carried out part one, installing the new equipment and safety surfacing under the equipment, but unfortunately part two, which is to be completed by Landbuild Limited, is still to follow. They will be creating the new entrance, sloped pathway and new play area perimeter fencing.
Despite the delay in part two of the project, it was decided to remove the security fencing before it became a hazard. This now allows open access to the park, which everyone spoken to is delighted with, although we can not, in the short term, keep dogs out. Most good dog owners have responded positively and we will monitor the site daily.
The new play equipment is already proving popular with local kids after school is finished.
Thank you to everyone for their support and help.
Outdoor Fitness equipment
A £20k scheme to install outdoor Gym style fitness equipment across the whole age range was opened in September 2015. It includes push, sit and step up equipment, a cycle, walkers and steppers.
Use of the pavilion
A charge maybe levied when using the pavilion.
For more information on how to book the pavilion at this site please contact our open space events team.
Need assistance with this service?
Get in touch:
Environmental Services
Page last updated: 03 April 2023
Back to top