Denton Gardens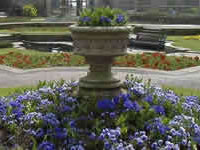 Brighton Road,
Worthing,
West Sussex,
BN11 3ET
Facilities and attractions

---
Situated to the east of the Pier, Denton Gardens is a pleasant ornamental garden, presented to the Town in 1922 by Alderman J.G. Denton and opened in Spring 1924.
Denton Gardens has an ornamental sunken garden, raised terrace and herbaceous border.
The south end of the garden takes you straight to the beach.
Denton gardens are very close to Splash Point (seafront gardens).
Need assistance with this service?
Get in touch:
Environmental Services
Page last updated: 08 December 2020
Back to top