Beach House Grounds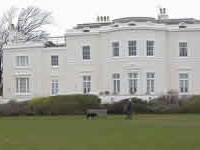 Brighton Road,
Worthing,
West Sussex,
BN11 2EJ
Facilities and attractions
‌


See also:
Introduction
This beachside open space surrounding the Regency building of Beach House is situated in Brighton Road. It was purchased by Worthing Council in December 1927 and laid out in 1937-1938.
The site is now used for informal leisure pursuits and charity events and fetes.
Beach sand courts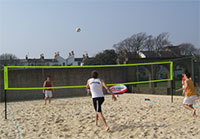 Regular sessions of beach volleyball, sand soccer, sand rugby and beach tennis will be held if people want to have coached sessions.
Open coaching sessions take place on Saturday mornings from 10am to 12 noon.
See also:
How to book a beach sand court
The Worthing Sand Courts are currently managed by Stefan Sykes of Coast Café on Worthing's seafront and Kirsty Starmer of Sussex Beach Volleyball Club. The sand courts can be hired out for volleyball as well as several other sports including sand soccer and rugby. Corporate Team Days and Children's Parties are also catered for:
Table Tennis
Two Table Tennis tables are available for visitors to the park to use for free.
Need assistance with this service?
Get in touch:
Parks Group
Sandcourts - Stefan Sykes
Page last updated: 09 August 2022
Back to top