Southwick Recreation Ground
and playground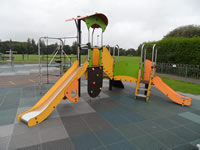 Croft Avenue,
Southwick,
West Sussex,
BN42 4AB
Facilities and attractions











Equipment list for Southwick Recreation Ground play area
Smaller children's play equipment - 2 to 6 years typically
Older children's play equipment - 6 years onwards typically
See also
About this park
Southwick Recreation Ground is a large recreation ground with many facilities including Southwick Leisure Centre. The site also provides indoor and outdoor bowling greens and is home ground to both Southwick Bowling Club and Southwick Park Bowls Club.
A multi use games area was installed in 2010 and the playground was revamped in 2008.
In 2011 new outdoor fitness equipment was added. Combine all this with BMX concrete and soil ramps and this recreation ground caters for everyone.
The Sussex Multiple Sclerosis Treatment Centre is also based in Southwick Recreation Ground.
How do I hire a football pitch at this site?
To book football at this site please contact Fiona Martin.
Football clubs
Southwick Recreation Ground is also home to several clubs, see:
Need assistance with this service?
Get in touch:
Environmental Services
Environmental Services
Page last updated: 03 April 2023
Back to top