Quayside Recreation Ground
and playground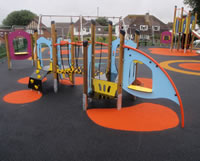 Upper Kingston Lane,
Southwick,
West Sussex,
BN42 4RE
Facilities and attractions






---
See also
Equipment list for Quayside Recreation Ground playground
Smaller children's play equipment - 2 to 6 years typically
Older children's play equipment - 6 years onwards typically
Quayside play area was completely refurbished in summer 2018 having been awarded £140k from Adur District Council's Capital funding programme following consultation with the local community.
The play equipment is designed for children between 3 and 12 years of age and has a large basketball court with cycle themed ground graphics adjacent to help promote cycle safety and the play area is surrounded by a new fence for children to play and parents to picnic safely.
Quayside is a pleasant recreation ground with a West Sussex County Council new youth centre next door. The ground was formed from a reclaimed tip nearly a hundred years ago and is therefore mainly grass.
The playground project has an overall budget of £140,000 of which £50k was earmarked for landscape improvement works and £90k for the playground.
Football pitches
Football pitches at this site can be booked by emailing Environmental Services.
Need assistance with this service?
Get in touch:
Environmental Services
Sports Booking Team - Environmental Services
Page last updated: 03 April 2023
Back to top