Sompting Recreation Ground
and playground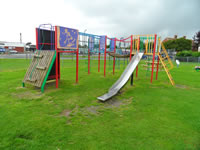 West Street,
Sompting,
West Sussex,
BN15 0BU
Facilities and attractions







---
See also
Equipment list for Sompting Recreation playground
Smaller children's play equipment - 2 to 6 years typically
Older children's play equipment - 6 years onwards typically
Teen shelter/meeting point
Multi sports
Sompting Recreation Ground is home to an annual Community Fair weekend event including fairground rides, music, football tournament and other local organisations.
Football pitches
The football season runs from September to April each year and applications for using the pitches can be made by contacting Fiona Martin. Changing rooms for the football pitches are situated across the road in the Community Centre.
Outdoor fitness equipment
A £20k scheme to install outdoor gym style fitness equipment across the whole age range. Surfacing with rubber bark style mulch to reduce grass wear also installed. Cost £20k and opened to the public in September 2015.
Need assistance with this service?
Get in touch:
Parks Group
Sports Booking Team
Page last updated: 03 April 2023
Back to top