Employment advice and support: Help to Work
If you have been made redundant, or are at risk of being made redundant, you may be feeling worried about the future. Adur & Worthing Councils have joined forces with several partner organisations to provide good information, advice and guidance in relation to employment issues.
Below you will find a range of useful information and links to key services and support:
Don't know where to start?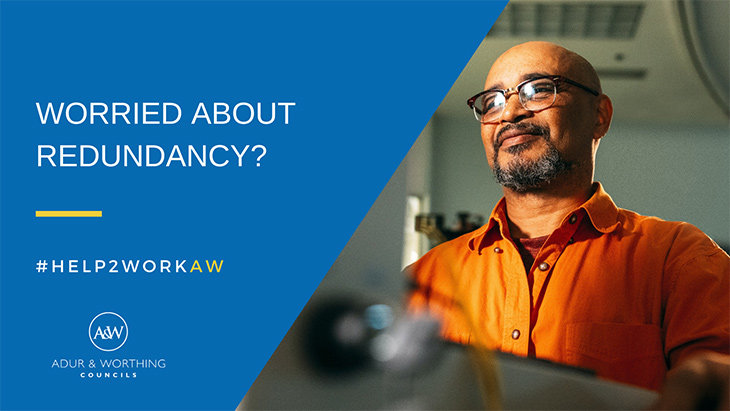 Redundancy: your rights
Have you been made redundant? You may be entitled to:
Redundancy pay
The option to move into a different job
Time off to find a new job
Know your redundancy rights and entitlements - on the GOV.UK website.
If you believe your employer hasn't applied the correct process, contact ACAS or Citizens Advice.
Video: Money Helper - Redundancy and losing your job
How to get financial help and claim benefits
You may be able to claim benefits if you have:
Lost your job
Working reduced hours
Need to self-isolate
You can find helpful advice about paying your mortgage, credit cards and household bills on the:
If you need help with food, here's how to find your nearest foodbank.
Childcare
To find out how to get help with childcare, see:
How to find job vacancies
To help you find a job read these tips and advice.
Employers advertise their jobs in a variety of places. These include:
Dedicated local jobs board websites:
National job websites:
Social media - including Facebook, LinkedIn and Twitter:
Fine tune your working life. Find out how flexible working options can fit around you and learn new skills to suit your changing needs:
How to write a CV, prepare for job interviews or access careers advice
Information, advice and guidance to help you make decisions on learning, training and work is available, see:
If you are a housing association tenant, you may also be able to access supported careers and employment advice:
How to find training courses or apprenticeships
Our local colleges and universities have a range of training courses and apprenticeship opportunities (apprenticeships are open to ALL ages). These are a great place to start, with many courses free or at reduced cost. Some courses will be paid for by an employer:
You can find out how Apprenticeships work on the Apprenticeships in Sussex website.
You can review all apprenticeship opportunities in our area on the GOV.UK website.
For a full list of local training organisations that provide local apprenticeship opportunities see the Apprenticeships in Sussex website.
How to start your own business
If you are considering starting up your own business, the Chichester Business Hot House Programme offers local information and live webinars to get you thinking. You may also be able to access a grant.
The following websites are also useful starting points:
Help if you are self-employed
Video: Money Helper - Financial support if you're self-employed
See also:
If you need help with employment (One Stop Junction)
One Stop Junction - providing support for people who are starting to think about gaining new skills or building their confidence to find work, but are finding it hard to know where to start:
For other advice and help, see also:
How to look after your mental health and emotional wellbeing
If you are struggling with your mental health as a result of being made redundant, here's a list of organisations that can help you:
Support for those with a disability or learning difficulty
There is specialist support for those that have a physical disability, are a carer or have a learning difficulty or autism:
Don't know where to start? Talk to an Employment Advisor to find out what help is available ...
If you can't find the information you need on this web page or need further guidance, please use the form below to request support from one of our employment advisors.
You can also get help from the Citizens Advice Bureau about your employment rights.
If you need help with using the internet or don't have access to a computer, tablet or smartphone, you may be able to get help through:
If you need help with managing your money, we can connect you with one of our Money Mentors. Please get in touch to find out more on:
Need assistance with this service?
Get in touch:
Human Resources (HR)
Job application forms
Page last updated: 18 September 2023
Back to top