Food Hygiene Rating Scheme
(helping you choose where to eat out)
See also:
Information about the Food Hygiene Rating Scheme
The National Food Hygiene Rating Scheme was introduced across Adur and Worthing on 4th April 2011.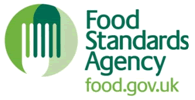 This national scheme, developed by the Food Standards Agency (FSA) in partnership with local authorities, provides information on food hygiene standards to help people to choose where to eat out, get food in or shop for food.
Around one million people suffer from food poisoning every year, and the aim in introducing the scheme is to reduce this.
Ratings are published through our website and can be displayed by the owner in their food premises.
The scheme serves as a good advertisement for businesses that practice high standards of food hygiene, and provide an incentive to those with poor hygiene to improve.
Restaurants, takeaways, cafes, sandwich shops, pubs, hotels, supermarkets and other retail food outlets, as well as any other business where consumers can eat or buy food, are given a rating. This rating is determined by Environmental Health Officers during their inspections.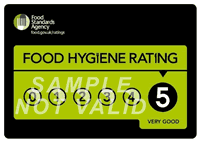 The owners of food businesses will be issued with a certificate and sticker for them to display to the public in their food premises. Display of the rating is currently voluntary. Ratings are based upon what was found on the day of inspection by our Environmental Health Officers.
The hygiene standards found at these inspections are rated on a scale ranging from zero at the bottom (which means 'urgent improvement necessary') to a top rating of five ('very good').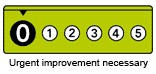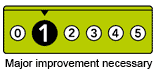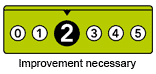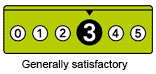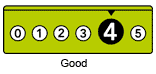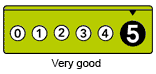 You can also view this video clip about the Food Hygiene Rating Scheme on the YouTube website.
How are businesses scored?
Scores are based on the level of risk that a food premises poses to customers from their food hygiene arrangements.
The scheme does not reflect the quality of the food being served, but how hygienically the food is prepared. Three criteria are used for providing a rating:
Food hygiene and safety: Food handling practices, cooking, chilling, preventing cross contamination and temperature control.
Structure and cleaning: Cleanliness, layout, condition of the structure, lighting, ventilation, facilities etc.
Confidence in management: The track record of the business, attitude of the present management towards hygiene and safety, hygiene and food safety technical knowledge available and satisfactory documented procedures.
Frequently asked questions
For further information please see:
To find out more about Food Hygiene Ratings please see:
Search for local Food Hygiene Ratings
Use the link below to search for local Food Hygiene Ratings:
Note: the search works best if you input a street name and town name (eg Chapel Road, Worthing) rather than a postcode.
Ratings are uploaded regularly so keep checking the site before you go out.
Need assistance? Get in touch:
Public Health & Regulation
Problem with this page?
Page last updated: 04 January 2018