How the Food Hygiene Rating Scheme works
---
Search for local Food Hygiene Ratings
Use the link below to search for local Food Hygiene Ratings:
Note: the search works best if you input a street name and town name (eg Chapel Road, Worthing) rather than a postcode.
Ratings are uploaded regularly, so keep checking the site before you go out.
How the Food Hygiene Rating Scheme works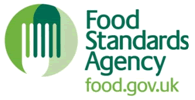 Developed by the Food Standards Agency (FSA) in partnership with local authorities, the national Food Hygiene Rating Scheme (FHRS) makes information on food hygiene standards publicly available. The scheme is designed to help you choose where to eat or shop for food by telling you how seriously a food business takes their food hygiene standards.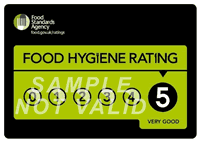 Food businesses are inspected by our food hygiene inspectors to check that their hygiene levels meet legal requirements. Hygiene standards are rated on a scale from 0 (urgent improvement is required) to 5 (very good).
This information is then published on the Food Standards Agency website and on ratings stickers which food businesses can choose to display at their premises.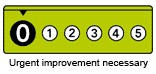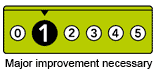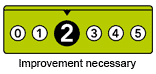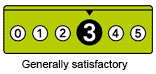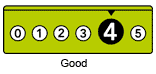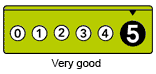 Video: About the Food Hygiene Rating Scheme by the Food Standards Agency
How we rate a food business' hygiene
The rating we give a business reflects the standards of food hygiene found at the time of inspection. This includes:
Food hygiene and safety: how food is stored, handled and prepared to avoid cross-contamination and control temperatures etc.
Physical condition of the business: considering cleanliness, layout, lighting, ventilation and pest control etc.
Confidence in management: the management's attitude towards hygiene and safety (procedures, training, demonstration of hygiene and food safety technical knowledge) as well as the business's track record
The rating scheme does not reflect the quality of the food being prepared or the dining experience.
For more information please see:
Last month's businesses with a Food Hygiene Rating of 5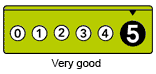 Last month the food safety team were able to award more businesses with a Food Hygiene Rating of 5. A full alphabetical list of these premises is available below:
August 2023:
Best Wishes, Caravelle House, 17-19 Goring Road, Worthing
Bird & Blend Tea Co, Unit 3, 6 Woods Way, Worthing, BN12 4QY
Bright Horizons Shoreham, Happysaurus Nursery, 48 Buckingham Road, Shoreham-by-Sea, BN43 5UD
Co-Op, 22-26 High Street, Shoreham-by-Sea, BN43 5DA
Coast Cafe, Chalet Kiosks East And West, Beach Parade, Worthing
Costa, Next, Holmbush Centre, Upper Shoreham Road, Shoreham-by-Sea, BN43 6TD
Domino's Pizza, 75-77 High Street, Shoreham-by-Sea, BN43 5DE
Giorgio Ristorante, 43 Broadwater Street West, Worthing, BN14 9BY
Honey Cake by Mary (registered with Adur & Worthing Council)
Lobo's Caribbean Cuisine, The Harbour Club, Harbour Way, Shoreham-by-Sea, BN43 5HG
Mileshky's (registered with Adur & Worthing Council)
Millets, 78 Montague Street, Worthing, BN11 3HE
Noodle Factory, 30 Brighton Road, Worthing, BN11 3ED
Polka Dot Cakes (registered with Adur & Worthing Council)
Radish, Amelia Court, 1 Union Place, Worthing
Railway Inn, 1 North Road, Lancing, BN15 9AH
Rent Your Event Sussex (registered with Adur & Worthing Council)
SZE's Food Catering (registered with Adur & Worthing Council)
Sight Support Worthing, 48 Rowlands Road, Worthing, BN11 3JT
Snackaroo (registered with Adur & Worthing Council)
The Burning Desire Hot Sauce Company, Unit 1c, Parkland Business Centre, 44 Chartwell Road, Lancing, BN15 8UE
The New Grange Care Home, 10-16 Homefield Road, Worthing, BN11 2HZ
The Tasting Room by Merakai Brewing, The Tasting Room, 8 Stanford Square, Worthing, BN11 3EZ
Toby Carvery, The Downlands Hotel, 123 Upper Brighton Road, Worthing, BN14 9JN
Worthing Fisheries, 102 George V Avenue, Worthing, BN11 5RP
Young Sussex, 302 Upper Shoreham Road, Shoreham-by-Sea, BN43 6BA
See also:
Need assistance with this service?
Get in touch:
Public Health & Regulation
Page last updated: 01 September 2023
Back to top