Worthing Investment Prospectus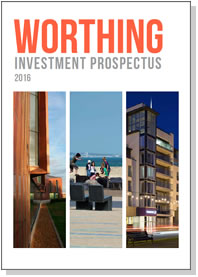 Worthing is emerging as one of the most exciting destinations on the south coast.
With a growing reputation as a place to live and work, a new generation of investors, start-up businesses and young families are discovering what makes Worthing great.
Worthing Borough Council, with the support of West Sussex County Council and other partners, has been developing a new vision for how the town will continue to be transformed in the future.
Through this Prospectus we invite you to join us as Worthing becomes even greater.
See also:
To discuss this Prospectus and other investment opportunities in Worthing, please contact the following:
or you can write to us at:
Worthing Investment Prospectus,
Worthing Borough Council,
Worthing Town Hall,
Chapel Road,
Worthing,
West Sussex,
BN11 1HA
Need assistance? Get in touch:
Major Projects Team, Planning & Development
Problem with this page?
Page last updated: 23 July 2018