HMS Shoreham - Freedom of the Adur District
Town readies for emotional farewell to HMS Shoreham before being decommissioned (11th May 2022)
---
About HMS Shoreham
Shoreham-by-Sea, and Adur District Council, has affiliations with the Royal Navy's HMS Shoreham, a Sandown Class mine countermeasure vessel (MCMV). HMS Shoreham:
is a Royal Navy Sandown Class Minehunter
Pennant: M112
Displacement: 600 tonnes
Complement: 34 personnel
Length: 52.5 metres
Beam: 10.5 metres
Draught: 2.3 metres
Top speed: 13 knots
Range (nautical): 2,500 nautical miles
Launch date: 09/04/2001
Commissioned date: 02/09/2002
As long as: Nelson's Column is tall

Four Royal Navy ships have previously been called 'Shoreham'. The original was built in Shoreham and launched in January 1694.
You can also find links to the Royal Navy website at the end of this webpage where you can find out more about HMS Shoreham.
Photo: HMS Shoreham at sea (Credit and copyright - Royal Navy)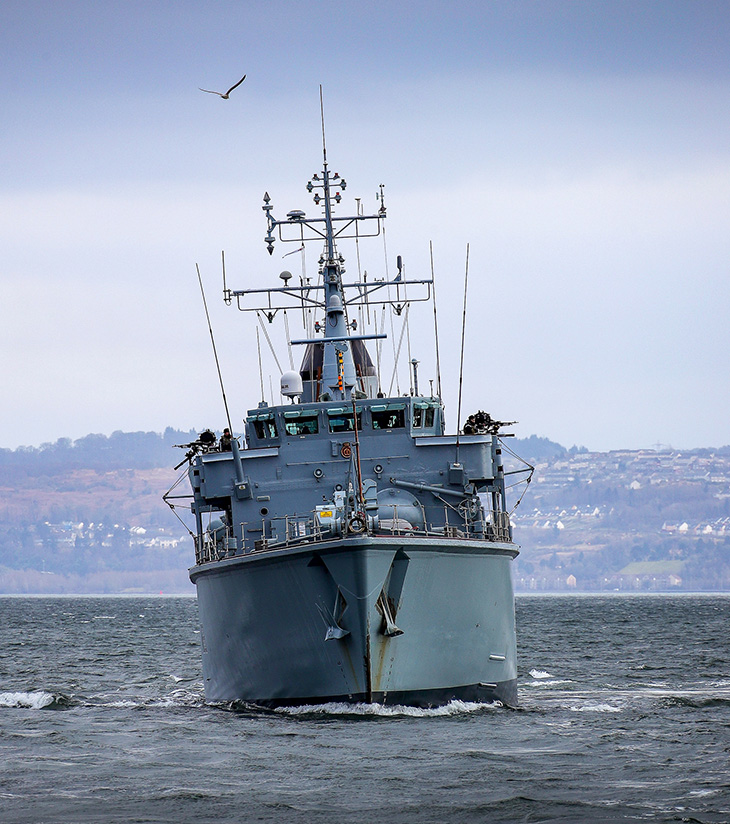 Photo: Crew onboard HMS Shoreham (Credit and copyright - Royal Navy)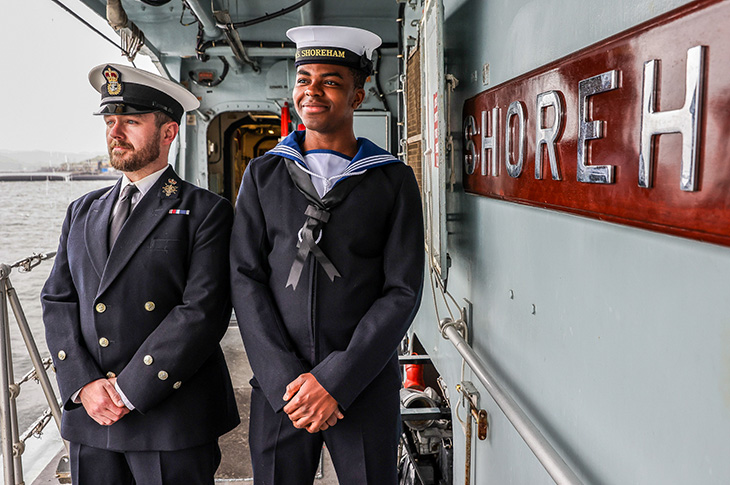 Photo: HMS Shoreham (Credit and copyright - Royal Navy)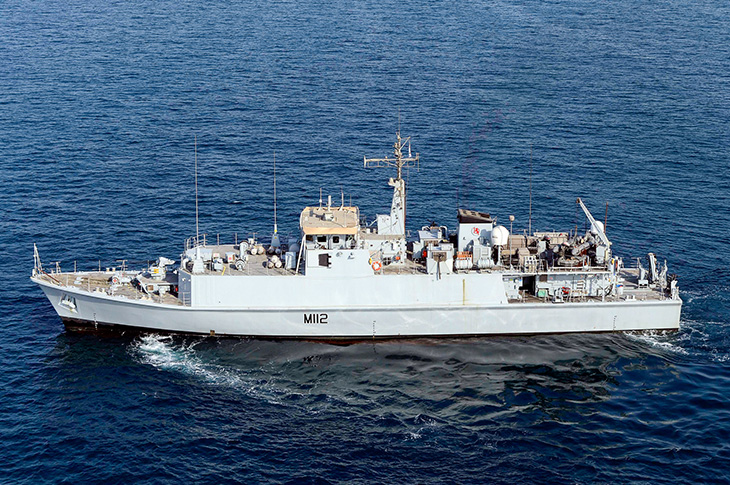 HMS Shoreham gets the Freedom of Shoreham-by-Sea (17th February 2011)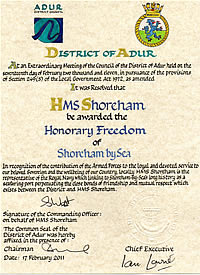 The Freedom of Shoreham-by-Sea was granted to HMS Shoreham on 17th February 2011 at the council meeting.
The Freedom Scroll document was signed on 19th March 2011 at the Sussex Yacht Club, and it was presented during the Ceremony on 20th March 2011.
To the right you can see a copy of the Freedom Scroll, click on the link below for a larger copy:
The Freedom Scroll document officially grants the freedom of Shoreham-by-Sea to HMS Shoreham. It was signed by:
Sarah West, Commanding Officer of HMS Shoreham
Debbie Kennard, Chairman of Adur District Council
Ian Lowrie, Chief Executive of Adur District Council
HMS Shoreham gives back the Freedom of Shoreham-by-Sea (14th May 2022)
The 41 men and women who've carried the town's name around the world on front-line operations since 2002, formed up ahead of a ceremony and paraded in front of the Shoreham Centre, during which the Scroll granting them Honorary Freedom of Shoreham was returned to Adur District Council for safekeeping.
The district's highest honour was granted upon the ship in 2011, since then sailors have paraded through the town with full military pomp and ceremony on three occasions, most recently in 2017.
The final Commanding Officer Lieutenant Commander, Andrew Platt, said:
"It is a real privilege to bring HMS Shoreham back to her hometown where she was first commissioned - and to hand-back the Freedom of the Adur District awarded in 2011 ahead of the Ship's decommissioning later this year."

"Over her 20 years of service - with nearly half of these spent deployed in the Gulf, HMS Shoreham's strong maritime links with our hometown have been of great support to a generation of sailors - and it is right that we express our thanks to Shoreham during this visit."
Photo: Commanding Officer Lieutenant Commander, Andrew Platt, speaking at the event marking the return of the scroll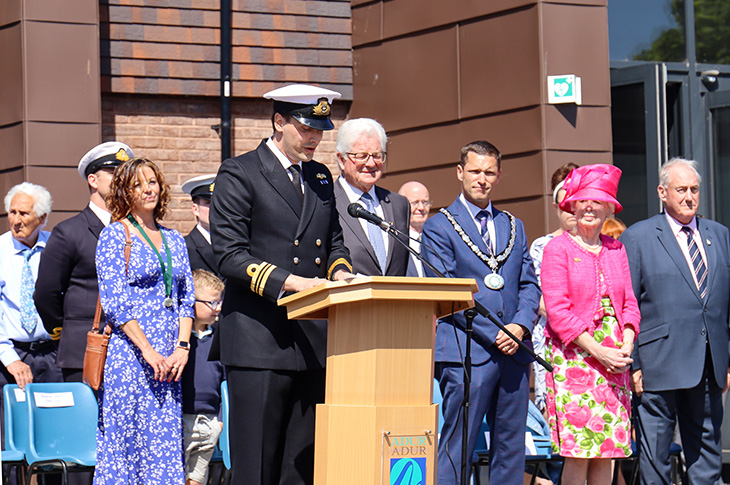 Photo: Commanding Officer Lieutenant Commander, Andrew Platt, Lady Nicola Perowne, Lady Sponsor of HMS Shoreham, and Cllr Stephen Chipp, Chairman of Adur District Council, with the scroll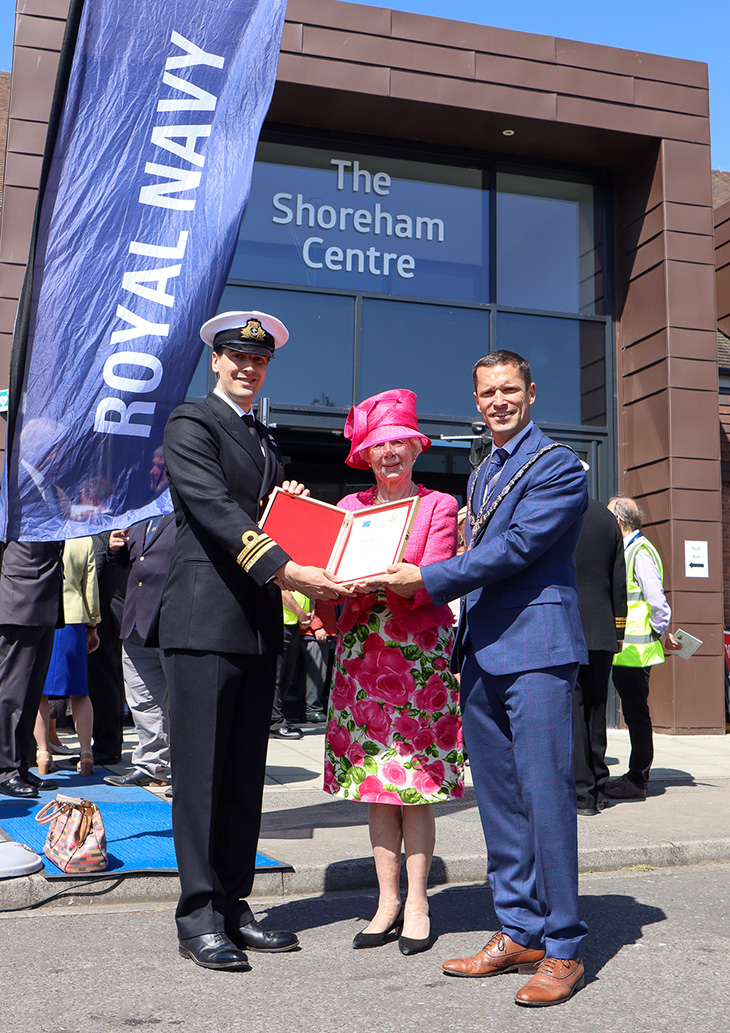 Photo: Parade at the event marking the return of the scroll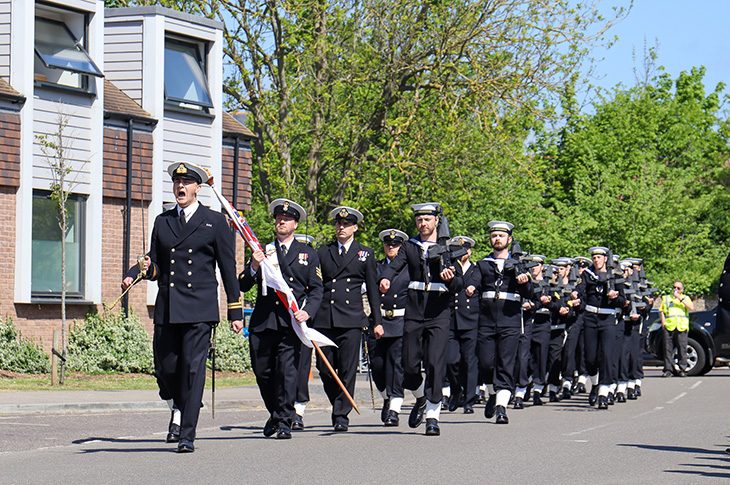 Photo: HMS Shoreham moored in Shoreham Port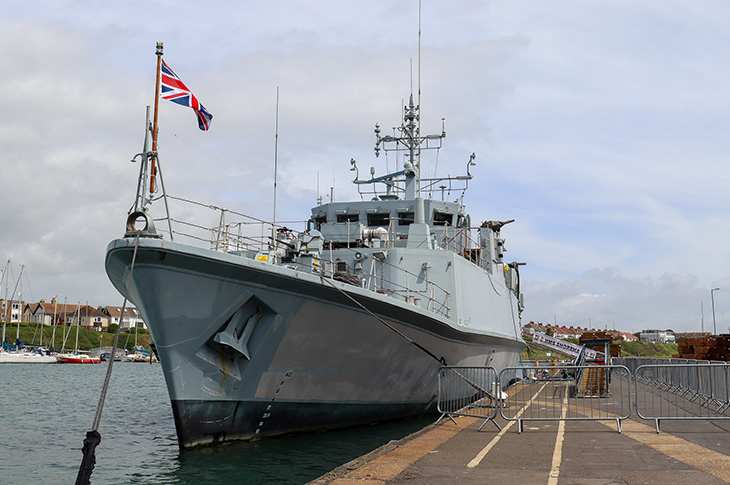 Links to external websites

Royal Navy websites:
Links to Wikipedia:
Need assistance with this service?
Get in touch:
Democratic Services
Page last updated: 07 June 2022
Back to top