HMS Shoreham - Freedom of the
Adur District
About HMS Shoreham
Shoreham-by-Sea, and Adur District Council, has affiliations with the Royal Navy's HMS Shoreham, a Sandown Class mine countermeasure vessel (MCMV). HMS Shoreham:
is a Royal Navy Sandown Class Minehunter
Pennant: M112
Displacement: 600 tonnes
Complement: 34 personnel
Length: 52.5 metres
Beam: 10.5 metres
Draught: 2.3 metres
Top speed: 13 knots
Range (nautical): 2,500 nautical miles
Launch date: 09/04/01
Commissioned date: 02/09/02
As long as: Nelson's Column is tall

Four Royal Navy ships have previously been called 'Shoreham'. The original was built in Shoreham and launched in January 1694.
You can also find links to the Royal Navy website at the end of this webpage where you can find out more about HMS Shoreham.
HMS Shoreham arriving in Shoreham Harbour - 5th July 2017:
HMS Shoreham gets Freedom of Shoreham-by-Sea (17th February 2011)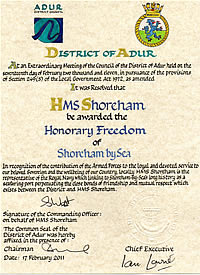 The Freedom of Shoreham-by-Sea was granted to HMS Shoreham on 17th February 2011 at the council meeting.
The Freedom Scroll document was signed on 19th March 2011 at the Sussex Yacht Club, and it was presented during the Ceremony on 20th March 2011.
To the right you can see a copy of the Freedom Scroll, click on the link below for a larger copy:
The Freedom Scroll document officially grants the freedom of Shoreham-by-Sea to HMS Shoreham. It was signed by:
Sarah West, Commanding Officer of HMS Shoreham
Debbie Kennard, Chairman of Adur District Council
Ian Lowrie, Chief Executive of Adur District Council
see also 11/025 : 03-03-2011 : HMS Shoreham gets Freedom of Shoreham-by-Sea
HMS Shoreham Freedom Parade
(Sunday 27th November 2011)
The Chairman of Adur District Council was delighted to announce that on Sunday 27th November 2011 the crew of HMS Shoreham would exercise their Freedom of Shoreham-by-Sea with a Parade through Shoreham (see map below for Parade route).
This Parade celebrated the on-going friendship and links with the community but more importantly was to wish the Ship and her crew the town's best wishes on their deployment overseas.
The Ship is not expected to make a home port visit to Shoreham for a number of years. So the towns folk of Adur were invited to come along and show their support to the crew.
The Parade left the Adur Civic Centre and a salute was given at the Shoreham War Memorial in East Street alongside the Chairman of the Council, Lady Perowne (Ship's Sponsor) and Lt Cdr West (Captain of HMS Shoreham).
The Parade was lead by the Royal Naval Volunteer Band HMS Nelson and include representatives from Sea Cadets and Army Cadets.
Links to external websites

Royal Navy websites:
Links to Wikipedia:
---
Contact details
Contact Democratic Services
Democratic Services,
Adur & Worthing Councils,
Worthing Town Hall,
Chapel Road,
Worthing,
West Sussex,
BN11 1HA