Heroes Welcome in Adur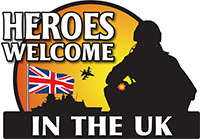 In recognition of the service and sacrifices made by the British Armed Forces and their families, the Chairman of the Council, Councillor Peter Metcalfe, has launched and is continuing to promote the national awareness of 'Heroes Welcome in the UK' across Adur.
The Heroes Welcome Network offers visiting service personnel a warm welcome in the District and 'support, quiet recognition and hospitality'. It has already been adopted in Brighton and Hove City and Worthing.
The Chairman is working with the Royal British Legion in Shoreham, Lancing and Sompting, and Southwick to extend the welcome across the local community, shops, restaurants and public houses. Participants are invited to sign up to the Welcome scheme by the display of a logo badge on their premises.
The Chairman, a former soldier himself, says:
"I am especially proud of my service in the Royal Corps of Transport and saddened when I hear of service personnel being turned away in shops or restaurants in other Towns for wearing their uniform whilst out in public. Our neighbours in Worthing adopted the scheme last year and many shops and restaurants there have pledged their support to a public welcome to service personnel and their families".
The Chairman launched the 'Heroes Welcome in Adur' on Wednesday 3rd October 2012 at the Sussex Yacht Club in Shoreham. Together with representatives of the local branches of the Royal British Legion and the Legion's Riders Branch, was Tim Loughton MP, the Vice-Chairman of the Council, Councillor Mike Mendoza, and other Councillors.
The Royal British Legion remind any former service personnel to contact their local branch for assistance or help in any matters.
The 'Heroes Welcome' scheme all started in Scarborough when a few local businesses, now over 500 strong and growing, grouped together in order to offer visiting service personnel special discounts. To find out more about the scheme see the:
Need assistance with this service?
Get in touch:
Civic Office
Page last updated: 08 August 2022
Back to top