Student Design Competition for Worthing Town Centre
During the summer, teams from the Council's Big Listen team have been travelling across the borough, hearing from residents about local issues that are important to them.
We have been delighted by the number of people who have come forward as part of The Big Listen to have conversations with us about how we can make Worthing better - and now we want to dig deeper into what we have been hearing.
One of the topics that lots of residents have been passionate about has been improving our public spaces to make them more accessible, greener and attractive to visitors, so we can draw more people into the town centre to help support our economy. Another is a gap in spaces and facilities for young people.
We want to look in detail at these two issues and find out more about what you (Year 7 & 8 students attending a school within Worthing Borough) would do with these spaces to make them greener, more sustainable and better for you.
Get creative and design your own space
We want to understand how we could make public spaces around the town better for you (knowing that there are lots of spaces for younger kids, but not for people your age) and who better to tell us what works, thank you! The Council is also committed to making Worthing a greener and more sustainable place.
So we are asking you to design your ideal space, so you would want to spend time there and that is better for the environment - a more sustainable place.
The competition is free to enter with prizes for the winning entries and including £1,000 for your school.
Below are further resources:
Site plans are provided and can be downloaded for students to use whilst designing the spaces. These are intended to be used at A3 size (scale 1:200):
Send us your entry:
The competition is open from Friday 11th November and closes at 5pm on Friday 16th December 2022.
Please read the terms and conditions first:
Then send us your entry:
Photos of the spaces as they are currently:
Photo: Grafton Terrace open space (looking down from, and up to, the car park):
Photo: Guildbourne Centre open space
Photo: Pavilion open space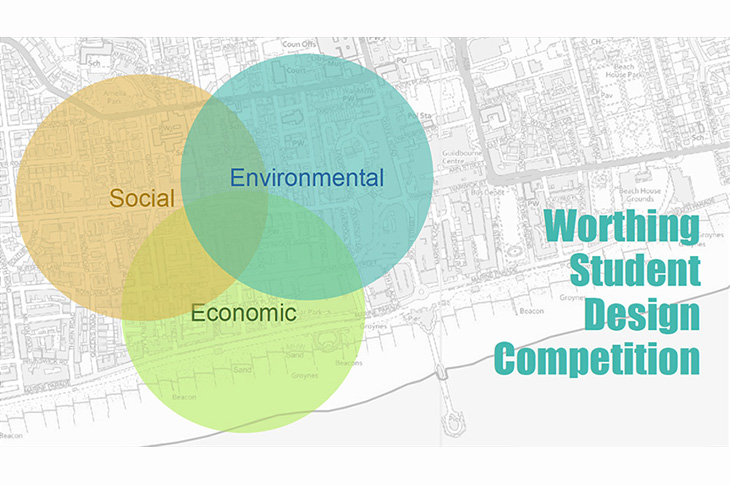 Page last updated: 25 November 2022
Back to top