Colonnade House Creative Hub
---
Colonnade House - background
In 2014, the 'Commit to Culture' project was born following a successful application by Worthing Borough Council requesting Coastal Community funding to transform 'Colonnade House' into a hub for cultural activity.
The idea was to establish a Creative Hub right in the heart of Worthing's town centre which would provide affordable workspaces for the Creative Community and offer a central focus for business support in an environment suitable for collaborative working.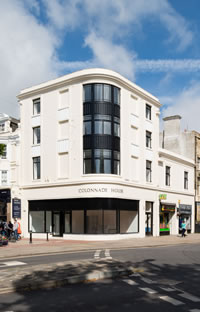 Colonnade House was identified as a possible venue for the hub; a council owned building that had been vacant for more than 12 months. Situated at the Eastern gateway of the town centre, Colonnade House is in a prominent position on Warwick Street in Worthing.
The project created 22 individual workspaces for local businesses, providing them with the opportunity to grow and expand, as well as establishing two gallery spaces on the ground floor.
You can find out more about how the Big Lottery Fund is helping coastal communities across the UK below:
Colonnade House - the makeover
Take a look through the improvements at Colonnade House ...
Before works began:
During the works:
After the works:
Rent a studio space or hire the galleries
Colonnade House Creative Hub provides affordable studio spaces for people working in the creative industries, and has two professionally equipped galleries for hire for exhibitions and events.
Find out more on the:
Or you can contact us:
Need assistance with this service?
Get in touch:
Richard Manders, Creative Hub (Colonnade House) Place & Economy
Page last updated: 06 December 2022
Back to top