Fire and fire safety
In the event of a fire, rescue or emergency service, always dial 999
West Sussex Fire & Rescue Services (WSFRS) is an emergency service department from West Sussex County Council
Fire Risk Assessments
Adur & Worthing Councils is now able to provide commercial Fire Risk Assessments and a Fire Safety advice service.
This service is offered on a 'not-for-profit basis' and are always charged at cost.
Our mission is "to ensure that buildings and those who occupy them are safe from the risks of fire".
Fire Risk Assessments start from £260 (plus VAT) depending on the building.
Fire Safety Advice is charged at £65 (plus VAT) per hour.
For full details and a breakdown of the prices please see:
For a quote please contact:
Rolf Zeegers,
Fire Safety Advisor,
Adur & Worthing Councils,
Building Control Partnership,
Portland House,
44 Richmond Road,
Worthing,
West Sussex,
BN11 1HS
Tel: 01903 221387
Mob: 07990 792 747
email: rolf.zeegers@adur-worthing.gov.uk
Fire Safety - Smoke Alarms
Test your smoke alarms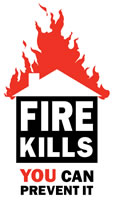 When you change your clocks, remember to test your smoke alarms and those of people you care about who might need help with theirs. You are four times more likely to die in a fire in your home if there is no working smoke alarm. Last year over 70 per cent of people who died were not alerted to the fire by a smoke alarm.
A common cause of smoke alarms not working is flat or missing batteries. The Fire Kills campaign is urging everyone to Tick-Tock-Test their smoke alarms this clock change weekend. This simple action could save your life.
If you don't have smoke alarms fitted then get some.
See also:
What to do in the event of a fire - and how to prepare for one ...
It is important that your household has a plan on how to deal with an emergency.
Try and include everyone who lives in your home, especially children, older people and lodgers when making your plan.
Choose an escape route
The best escape route is your normal way in and out of your home. Think of any difficulties you may have getting out, for example in the middle of the night.
Choose a second escape route, in case the first one is blocked.
Keep both escape routes clear of obstructions.
If there are older people or children in the household, plan the order you would escape in, so that if you have to go out of a window you can help them down.
Think about a refuge
If you can't escape you will need to find one room to take refuge in - this is particularly important if you have difficulty moving around or going down stairs on your own.
It's best if the room you retreat to has a window and a phone.
Make sure everyone knows what to do
Go through all the points about what to do in a fire. Everyone should know the dos and don'ts.
Put your address by the phone so children can read it out to the emergency services.
Put a reminder of what to do in a fire somewhere prominent, like on the door of the fridge.
Useful Links
All of the following Links will take you to the West Sussex Fire & Rescue Services (WSFRS) section on the West Sussex County Council (WSCC) website: