West Park and playground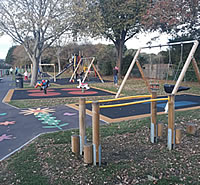 Shaftesbury Avenue,
Worthing,
West Sussex,
BN12 4ER
Facilities and attractions








---
Equipment list for West Park playground
Smaller children's play equipment - 2 to 6 years typically
Older children's play equipment - 6 years onwards typically
Multi sports - football/basketball/cricket
West Park play area was completely refurbished in summer 2018 following extensive consultation with the Community and children from the local schools with the installation of new play equipment aimed at children between 3 and 12 years of age.
The scheme was funded using £75k from Worthing Borough Council's Section 106 developer contributions.
This open space is the site of Worthing's main Leisure Centre and in addition to the leisure facilities that are part of the sports centre there is a basketball unit and small surfaced area and an adult size football pitch with changing facilities in the adjacent West Park Leisure Centre.
The next stage of improvements (scheduled for early 2019) will see the installation of gym style fitness equipment, further details can be found at:
For further details of the facilities available, please see the Worthing Leisure Centre (South Downs Leisure) website.
Friends of West Worthing Park
The group was founded in September 2016, to raise funding for and to lobby for improved play equipment in the park.
Their vision is for an exciting community space with multiple activities that is usable all year and to promote health and wellbeing.
For more details see: Friends of West Worthing Park (Facebook page).
Need assistance with this service?
Get in touch:
Environmental Services
Page last updated: 08 September 2021
Back to top