Heene Terrace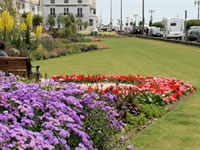 Marine Parade,
Worthing,
West Sussex,
BN11 3NR
Facilities and attractions


---
The re-design of the gardens at Heene Terrace on the Worthing seafront has had recognition from the horticultural press when it reached the finals of a prestigious national Amenity and Landscaping Awards 2009 programme organised by 'Horticulture Week'.
The garden, redesigned by Worthing Borough Council's Parks Section in 2008, was selected from nation-wide entrants by an eminent panel of landscaping and plant specialists. The award ceremony was held at the Grosvenor House Hotel, London, and the WBC was represented by Cabinet Member for Clean, Green and Environment Councillor Clive Roberts.
Worthing Borough Council's Park's efforts were rewarded by being placed in the final five. In Clive's own words:
"The standard of all entries was incredibly high. Being in the final five was a terrific achievement".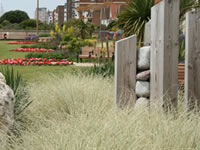 In 2007 the pressures of economics and water restrictions meant that this Worthing seafront garden came under scrutiny. Thousands of pounds were being spent on maintenance and seasonal bedding year after year, and although this was often a splendid example of traditional seaside colour, something had to be done.
The first thought was to completely grass over the existing beds so that the maintenance would consist of mowing only, but this was considered to be unfair to local residents. It did not take long before it was decided that the Parks Department should look at the possibility of re-designing the garden with two main goals - save money and produce a more sustainable planting scheme - the latter being a tough task considering its seafront location.
As well as saving more than £18,000 per year on maintenance costs, this recognition by the horticultural elite proves that the new garden is a success.
Need assistance with this service?
Get in touch:
Environmental Services
Page last updated: 18 August 2021
Back to top