Church House Grounds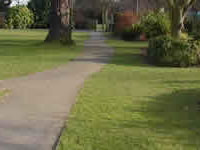 Church Road,
Tarring,
Worthing,
West Sussex,
BN13 1EU
Facilities and attractions
About this site
Church House Grounds is in the heart of Tarring lying between the Church of St. Andrew to the north and Tarring recreation ground to the south. The nearest road where free on street parking is Church Road, Tarring.
The site is flat and mostly turf with ornamental planting and some lovely mature trees, Church House Grounds is a quiet and peaceful place where bowls and tennis are played. It is often used as a walk through by local residents and has tarmac paving running across the site linking up with Tarring Recreation Ground.
There are public conveniences at this site open to the public from 9:30am to dusk every day, which are located at the Bowls Pavilion.
How do I book a bowls green at this site?
Tarring Priory Bowls Club sell season tickets and make their own arrangements for allocating play on the bowling greens.
Daily play will still take place and the public can make arrangements direct with the bowling clubs and pay their fee to play bowls daily.
Mats, shoe hire and jacks will be available for those who wish to turn up and play.
Should anybody not be able to play due to there being no bowling club official in attendance, please contact the Parks Group and we will pass on your details to the bowls clubs so they can make arrangements with you direct.
Bowling prices from 1st April 2021 to 31st March 2022 are:
Adult season ticket - £128.50
Retired season ticket - £112.50
New season ticket - £86.50
Half season ticket - £86.50
Junior season ticket - £54.00
Casual session ticket - £8.70
Taster session - £4.00
(Prices are subject to an annual increase in April, prices correct as at 01-04-2021):
Opening times:
Church House Grounds bowling greens are open each day, April to October, as follows:
Mondays: 10:00am to dusk
Tuesdays: 12:30pm to dusk
Wednesdays to Sundays: 10:00am to dusk
How do I book a tennis court at this site and how much does it cost?
South Downs Leisure, through Field Place, manage the tennis courts at Church House Grounds.
Tennis is playable all year round on the two outdoor tennis courts.
For details of when the tennis courts are open, and how to make a booking, please see:
Need assistance with this service?
Get in touch:
Environmental Services
Page last updated: 13 August 2021