Brooklands Park is currently undergoing restoration to return it to the jewel in the crown destination of Adur and Worthing open spaces.
Among the new features for Brooklands Park will be:
a sustainable café close to the lake
an adventure play area to house 30 pieces of equipment, two of which are climbing frames more than 4 metres high
an outdoor space for multi use events such as frisbee, football or other activities surrounded by seating
a contemplative garden bordering the Teville Stream with new sensory planting
a new accessible pathway circumnavigating the lake with seating areas and shelters
a 1.55 miles (2.5km) fitness trail around the park
a number of glades on the old golf course, including Community Garden, Play and Build, Nature, Wind and Winter, discrete areas sheltered by planting allowing for different community activities including food growing, seed sowing, play dens, bug hotels and bird boxes
This is the second stage of the Brooklands Park project. Two years ago the lake and stream were the subject of extensive restoration work with silt removed, free flowing water channels created and windmill oxygenators installed so that the fish, wildlife and plant life could thrive.
Want to know more?
To get more involved see:
If you would like to contact the Park Ranger for Brooklands, Craig Ifield, you can email him:
See also:
Where is the park?
Brooklands Park just north of the coast road (A259 Brighton Road, junction with Western Road) in Worthing, facing the beach. It is about 1.7 miles (2.7km) east of Worthing Pier.
Brooklands Park,
Western Road,
Worthing,
West Sussex,
BN15 8SA
There are car parks:
on the southern side of the park, off Brighton Road
and the eastern side of the park, off Western Road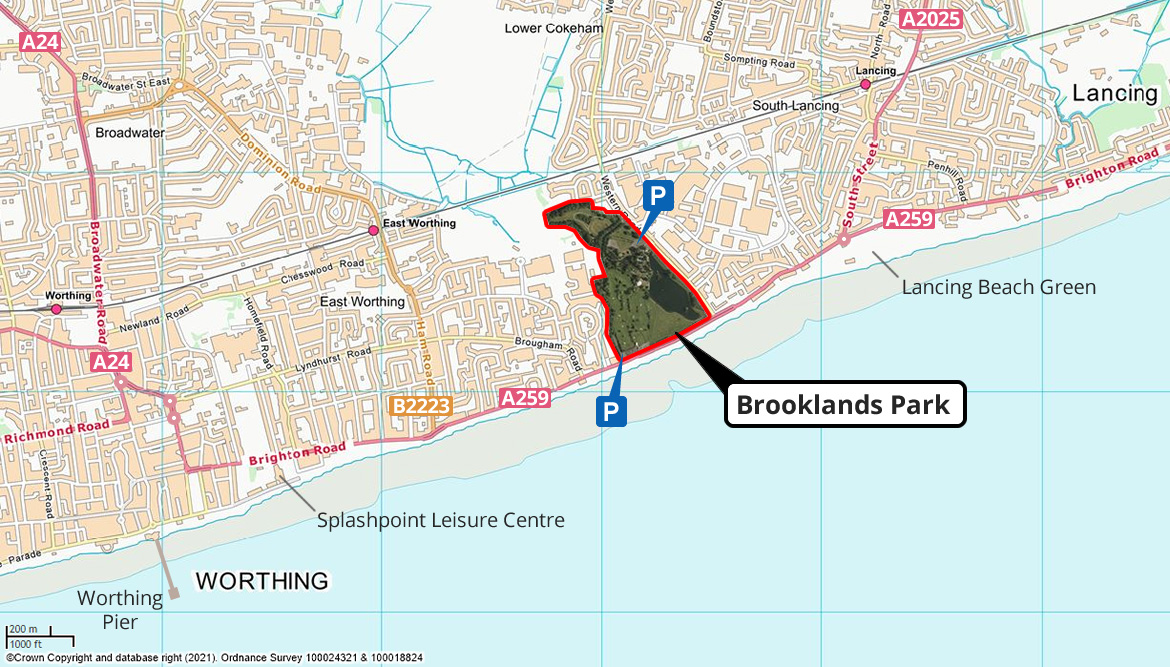 You may also be interested in:
Need assistance with this service?
Get in touch:
Environmental Services
Page last updated: 27 November 2023
Back to top