Highdown North Field
Littlehampton Road
Worthing
West Sussex
---
Miller's Tomb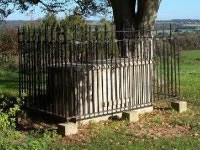 You can see the Miller's Tomb as you walk up Highdown to the top of the hill. The tomb is the site of the grave of John Olliver who was the miller back in 1709. It is said that he was involved in smuggling and used the sails of the windmill to signal when the excise officers were not around.
Some say that John Olliver was an eccentric as he built his own tomb when aged 56 and kept his coffin on casters under his bed. However, other people argue that John Olliver was of sound mind and had the tomb built as a site for hiding his contraband and the contraband of other local smugglers. He eventually died in 1793 aged 84.
The site has been designated a Site of Nature and Conservation Interest due to the wealth of flora including orchids.
Highdown Hill can be used as a starting point for walks to various villages including Angmering and Patching.
See also:
Need assistance with this service?
Get in touch:
Environmental Services
Page last updated: 09 September 2021
Back to top