Plans for community designed West Durrington park revealed
Released: Tuesday, 06 June 2023
Plans have been revealed for a new community park in West Durrington that residents and local groups have helped to design.
In March Worthing Borough Council hosted a series of events, along with housebuilders Persimmon Homes, Taylor Wimpey and Vistry Homes, to find out what facilities the community would like to see built on the land to the north of Fulbeck Way, West Durrington.
Over 80 local residents, including children, young people and representatives from a variety of community groups took part in three engagement events. The ideas discussed directly informed the design for a play park, sports facilities and allotments that cater for all ages, genders and abilities.
Play provider Eibe Play Ltd was successfully chosen to design an inclusive play area that will appeal to both young children and teenagers, with designated zones and disability-friendly equipment. There will be a carousel and seesaw suitable for wheelchair users and safety flooring featuring colours that have been shown to be calming for people with autism.
Younger children will benefit from sound play areas, with chimes and rain wheels, as well as a ground level trampoline, swings and climbing units. An innovative parkour play area with challenging climbing obstacles has been designed to appeal to teenagers.
The park will also feature a multi-use games area and ball court that has been designed by Eibe to appeal to children who commonly feel excluded by these facilities.
The original plans for the community park included an adult-sized football pitch, but after discussions with the community, the Council and developers have changed the plans to include three junior-sized football pitches instead.
Plenty of benches, picnic tables and cycle stands have been incorporated into the design to encourage a communal feel and active travel.
Plans also include fresh planting of trees, shrubs and hedges and 20 new allotment plots next to the existing Humber Avenue Community Allotments site. Thanks to community feedback, there are also plans for a community orchard, a large community allotment and a community garden that is suitable for disabled users.
A temporary car park will be in place to serve any additional allotment users and the tender process for the construction of the football pitches and allotments is scheduled to start in August 2023.
Cllr Vicki Wells, Worthing's Cabinet Member for the Environment, said:
"The design of this new community park facility has been a joint effort between the Council and housebuilders but, most importantly, local residents and community groups. It is a superb example of collaborative working, with the community firmly at the heart of the decision-making process. I am especially grateful and extend thanks to those who contributed their ideas, passion and time to help the council design a scheme that caters so wonderfully with a diversity of activities for so many people."
To view and comment on the plans please see:
The new community park documents can be identified with the title "Community Park"
Image: West Durrington Community Park proposed plans (image credit Eibe Play Ltd, from the planning application)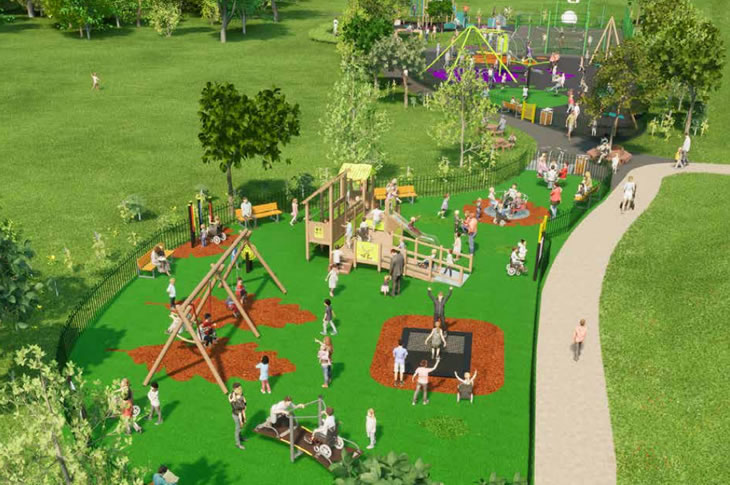 (PR23-071)
Page last updated: 26 September 2023
Back to top