Bike share scheme being expanded in Adur and Worthing
Released: Tuesday, 23 May 2023
A bike hire scheme which helps to make active travel quick and simple for all is being greatly expanded in Adur and Worthing ahead of the summer.
Since their introduction in 2017, Donkey bikes in Worthing have provided residents and visitors alike with a sustainable bicycle rental service to get around town.
As part of an overhaul of the service, the number of Donkey Republic bikes for temporary hire are not only being greatly increased, but also introduced to Adur - a move which will give users greater options on where to start and end their journeys.
The expansion will see a total of 75 bicycles available for hire across Adur and Worthing from June 2023, 29 of which will be based in the town centres and on the coastlines of Lancing, Shoreham and Southwick.
Work is already underway to bring the new bikes and holding stations to the area, with contractors preparing the bicycles for action and creating additional spaces for them to be held across Adur and Worthing.
Since declaring a climate emergency in 2019, Adur & Worthing Councils have been on the lookout for innovative ways to reduce not only their carbon footprint, but also help the area achieve net zero carbon status by 2045.
It's estimated that on-road transport makes up a quarter of the area's emissions. The Councils want to ensure that greener options of transport are readily available for those making shorter journeys.
There are currently 34 bikes located in Worthing along the promenade, Worthing and West Worthing train stations and the town hall. The existing fleet in Worthing is also being refurbished and will see additional bikes added to new locations at Brooklands Park, East Worthing Station, Sea Lane Goring and two sites on Goring Road.
Prices for the existing fleet in Worthing currently start at £1.80 for 30 minutes and memberships can be bought for those who may look to use the bikes more regularly.
Cllr Emma Evans, Adur's Cabinet Member for the Environment and Leisure, said:
"It's really exciting to see the bike hire scheme coming to our district. As well as being a sustainable form of transport, cycling comes with many health benefits and is an option of travel we're glad to see become more accessible through this extension."
Cllr Dr Beccy Cooper, the Leader of Worthing Borough Council, said:
"It's a really positive step to have more hire bikes available for our Coastal Communities, allowing residents and tourists alike to choose a greener form of transport.

"Alongside the expansion of our bike hire scheme, we will be installing new bike racks in key locations such as Sea Lane Cafe and East Worthing train station. This is part of our broader commitment to a sustainable transport network for our area, where walking, cycling and public transport become the easy, affordable and preferred way to travel around our town and along the coast."
See also:
Photo: A Donkey Bike pictured on Worthing seafront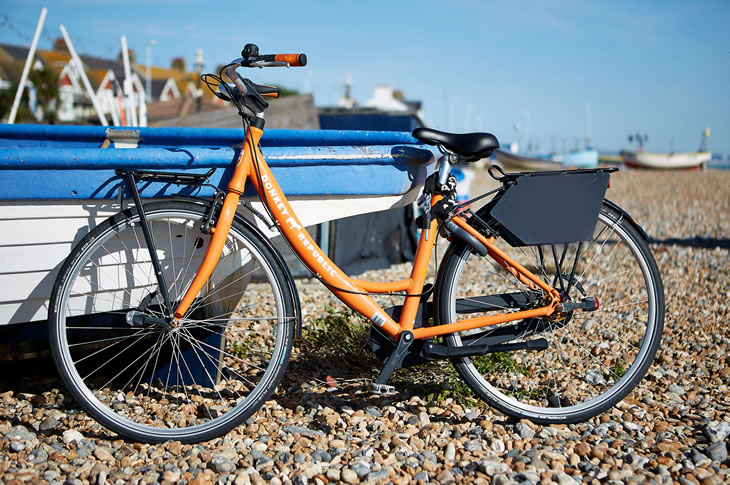 (PR23-065)
Page last updated: 05 December 2023
Back to top