Worthing first became popular as a visitor destination in the eighteenth century, as the health benefits of bathing in saltwater became widely known. Good transport links and proximity to London have ensured it has continued to be popular for day trips and short leisure breaks ever since.
The value of Worthing's visitor economy today
Today tourism is one of the key drivers for Worthing's local economy and plays a key role in changing perceptions about the town. With many young families and couples moving to the area in recent years the town's demographic has changed, bringing a fresh energy and renewed vibrancy. The global trend for experience led tourism, with a focus on arts and creativity, wellbeing and the natural environment has also played to Worthing's strengths.
The value of Worthing's tourism industry continues to grow year on year:
2014 - £183.5 million
2015 - No figures available
2016 - £191.5 million
2017 - £187 million
2018 - £211.9 million
2019 - £216.7 million
2020 - COVID-19 pandemic - no figures available
Time for Worthing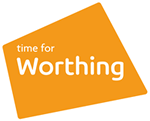 Time for Worthing is the town's place brand; encouraging inward investment and civic pride and promoting Worthing as an exciting visitor destination.
Time for Worthing celebrates all that Worthing has to offer, from the active outdoors lifestyle - walking, cycling and water sports, offered by the sea and proximity to the South Downs National Park, to the town's celebrated arts venues, thriving food and drink scene and independent shops.
For more information about what to do in Worthing and upcoming events please visit:
Need assistance with this service?
Get in touch:
Economic Development, Place & Economy
Page last updated: 20 August 2021
Back to top