Filthy and/or verminous properties
What do we mean by filthy and/or verminous properties?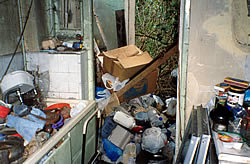 Filthy or verminous premises are properties that are infested by vermin (including rats, mice, insects or parasites including their eggs, larvae and pupae) or in such a filthy or unwholesome condition as to be prejudicial to health (this usually means that there is a large amount of rotting food and/or human or animal excrement inside the property).
Such properties are frequently characterised by an accumulation of material that can make access to the premises difficult and that may present a physical or fire risk to the occupants or those of adjoining premises.
When is it a problem?
Filthy or verminous premises present a real risk to the public health, often by acting as shelter or food for rats, mice or other vermin that have a detrimental effect on people's wellbeing. Such properties may also start to adversely affecting neighbouring properties due to rotting smells, infestations and problems caused by poor repair.
We normally become aware of such cases by referral from Social Services or housing officers, although sometimes people slip through the net and only come to our attention when concerned neighbours or relatives contact us.
What can the Council do about it?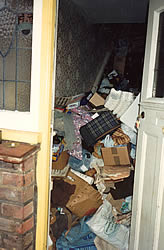 Officers in the Private Sector Housing Team, under the provisions of the Public Health Acts, Environmental Protection Act 1990 or the Prevention of Damages by Pests Act, can take action to remedy such premises. Such premises have to be dealt with sensitively and sometimes in partnership with Adult and Community Services and other organisations.
Once the Council has been notified of such a premises, an officer will carry out an inspection of the premises to determine if enforcement action is required. Once this has been determined, discussions with the owner/occupier will take place to try and gain an agreement to remove all rubbish and articles and to thoroughly clean the property. If the owner/occupier fails to comply, the Council can serve a statutory notice requiring the property to be cleansed and all rubbish and filthy articles removed.
Failure to comply with the requirements of the notice may result in either prosecution and/or the Council carrying out the works in default (ie appointing a contractor) and recovering the costs back from the owner/occupier.
See also:
Make a complaint
If you have a complaint regarding filthy and/or verminous properties, please contact the Private Sector Housing Team:
---
Contact details
Contact Private Sector Housing
Private Sector Housing,
Adur & Worthing Councils,
Portland House,
44 Richmond Road,
Worthing,
West Sussex,
BN11 1HS