Caravan sites and Houseboats
See also:
Caravan sites
Introduction
The Caravan and Control of Development Act 1960 prohibits the use of land as a caravan site unless the occupier holds a site licence that has been issued by us, the local authority.
How to apply
Applications can be made directly to the local authority. Please contact the Private Sector Housing team to request an application form.
Any application completed must be accompanied by a site plan at 1:500 scale showing the layout of roads, caravans and facilities.
A licence cannot be issued without corresponding planning permission. You should contact the Planning department to discuss the requirements for planning permission to be granted where necessary.
Exemptions
There are some exceptions to the requirement for a caravan site licence:
A caravan sited with the curtilage of a dwelling and its use is incidental to the dwelling. This means it cannot be occupied separately.
A single caravan sited for not more than two consecutive nights for a maximum of 28 days in any 12 months.
Up to three caravans on a site of not less than five acres for a maximum of 28 days in any 12 months.
Sites occupied by exempted organisations such as the Caravan Club.
Sites of up to five caravans certified by an exempt organisation and which are for members only.
Sites occupied by the local authority.
Sites for temporary and special purposes such as caravan rallies, agricultural and forestry workers, building and engineering sites and travelling salesmen.
A site for tents only can be used for a maximum of 28 days in any 12 months.
Eligibility Criteria
The applicant must be entitled to use the land as a caravan site. The application must be in writing and valid planning permission must be obtained before a licence can be issued. Licences will not be issued to applicants who have had a site licence revoked within three years of the current application.
Licence conditions
Licences have conditions which include:
The type of caravan, eg residential, static holiday or touring
The permitted density (the number per acre/hectare) and the spacing between caravans
Water supply and drainage; lavatory and washing facilities
Fire precautions and electrical installations
Are you a caravan site occupier?
You should have a licence already but you should check that your name, the site name and address is correct and up to date. Also check that the licence corresponds with your planning permission. If not, contact us using the details above.
If you have recently become a caravan site occupier, licences are transferable to a new occupier but the law requires us to give consent for the transfer. You should complete an application form with a letter requesting for transfer.
Are you a potential site occupier?
You or your legal advisor should check that all the land used for siting caravans has planning permission and that the details correspond with the site licence. If you wish to change the use of the land to a permanent caravan site use you must have planning permission before a licence can be issued.
Copies of the Caravan and Control of Development Act 1960 and other legislation mentioned can be downloaded from the Legislation.gov.uk website.
Mobile Homes Act 2013
The Caravan Sites and Control of Development Act 1960 has been amended by the Mobile Homes Act 2013, which came into force on 1st April 2014. Local Authorities can now charge fees for their licensing functions in respect of 'relevant protected sites'.
A 'relevant protected site' is defined as any land to be used as a caravan site other than one where a licence is:
Granted for holiday use only
In any other way subject to conditions which restrict the usage of the site for the stationing of caravans for human habitation at certain times of the year (such as planning conditions)
Relevant protected sites are typically known as residential parks, mobile home parks, Gypsy Roma and Traveller sites and so on.
Local Authorities can charge:
A licence fee for applications to grant or transfer a licence or an application to alter the conditions of a licence; and
An annual licence fee for administering and monitoring licences
A one-off fee for depositing revised Park Site Rules
Adur District Council's fee policy can below:
The Mobile Homes Act 2013 also amends the Mobile Homes Act 1983 by requiring local authorities to oversee and validate the park rules formed between park owners and their residents in the manner prescribed under the Mobile Homes (Site Rules) (England) Regulations 2014.
The local authority is obliged to maintain a public register of all site rules that have been deposited. The register can be found below:
Houseboats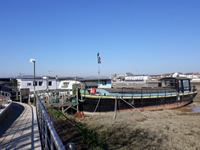 Adur District Council has a large number of privately owned houseboats on the River Adur.
As houseboat moorings at Shoreham-by-Sea are privately owned, the only way to buy one would be through a private sale, perhaps through a local estate agent.
The Housing Health and Safety Rating System (HHSRS) does not apply to houseboats, nor indeed any of the normal housing standards legislation. However, in the case of tenanted houseboats we will investigate whether conditions are prejudicial to the health of the occupants, ie are the premises a statutory nuisance under the Environmental Protection Act 1990.
See also: