Caravan site licences and houseboats
---
Apply for a caravan site licence
The Caravan and Control of Development Act 1960 requires that you have a site licence granted by the Council to use land as a caravan park. To apply, please contact the Private Sector Housing team for a site licence application form.
Your application must include a proposed site plan at a 1:500 scale showing the layout of roads, caravans and facilities.
A licence cannot be issued without planning permission, so before you apply for a licence you will need to contact the Planning department to enquire about planning permission. For more information please see:
Licence conditions
If you are granted a licence it will include certain conditions regarding:
which type of caravan can use the site, eg residential, holiday static or holiday touring
how many caravans can be on site, and the required spacing between them
water supply and drainage, toilet and washing facilities
fire precautions and electrical installations
If you are already a caravan site occupier and have a site licence please ensure your name, the site name and address are all correct, and that the licence corresponds with your planning permission. Please contact us if you have any questions.
Transferring a licence
Existing site licences are transferable to new occupiers, but we need to approve the transfer. If you are a new site occupier you need to complete an application form with a letter requesting a transfer.
Exemptions
There are some instances where a caravan site licence is not required, including:
A caravan sited with the curtilage of a dwelling and its use is incidental to the dwelling. This means it cannot be occupied separately
A single caravan sited for not more than two consecutive nights for a maximum of 28 days in any 12 months
Up to three caravans on a site of not less than five acres for a maximum of 28 days in any 12 months
Sites occupied by exempted organisations such as the Caravan and Motorhome Club
Sites of up to five caravans certified by an exempt organisation and which are for members only
Sites occupied by the local authority
Sites for temporary and special purposes, such as caravan rallies, agricultural and forestry workers, building and engineering sites and travelling salesmen
A site for tents only can be used for a maximum of 28 days in any 12 months
If you are not sure whether one of these exemptions applies to you, please contact us to check.
Licence fees
The Mobile Homes Act 2013 allows the Council to charge fees for 'relevant protected sites'. This is any land to be used as a caravan site, other than one where a licence is:
granted for holiday use only
in any way subject to conditions which restrict the use of the site for the stationing of caravans for human habitation at certain times of the year, such as planning conditions
Relevant protected sites are typically residential parks, mobile home parks, Gypsy Roma and Traveller sites, etc.
As a local authority we can charge:
a licence fee for applications to grant or transfer a licence, or an application to alter the conditions of a licence
an annual licence fee for administering and monitoring licences
a one-off fee for depositing revised Park Site Rules
For more information about our fees please see:
Caravan park site rules
The Mobile Homes Act 2013 requires the Council to oversee and validate caravan park site rules and maintain a public register of all site rules that have been deposited. The register can be found below:
Register of fit and proper persons:
The Mobile Homes (Requirement for Manager of Site to be Fit and Proper Person) (England) Regulations 2020 states that the site owner must be a fit and proper person to lawfully operate a park home site, or have a fit and proper site manager in place.
The Councils are required to keep a register of fit and proper persons, which can be viewed below, or at the Council offices at Portland House during office hours
Entries on the Register can be viewed below:
Houseboats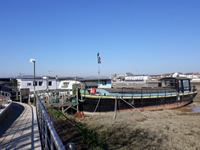 There are many privately owned houseboats on the River Adur. The houseboat moorings at Shoreham-by-Sea are privately owned and can only be purchased through a private sale.
The Housing Health and Safety Rating System (HHSRS) does not apply to houseboats, nor indeed any of the normal housing standards legislation. However, in the case of tenanted houseboats we will investigate whether conditions are prejudicial to the health of the occupants, ie are the premises a statutory nuisance under the Environmental Protection Act 1990.
See also:
Need assistance with this service?
Get in touch:
Private Sector Housing Team
Page last updated: 27 January 2022
Back to top